The RBNZ delivered a less dovish message in May than a month ago. While leaving all monetary policy measures unchanged, it upgraded the inflation forecast and revised lower the unemployment rate. The central bank also pushed forward the first rate hike to 3Q22. Kiwi rallied to highest since February after the news.
While the uncertainty remains high, the central bank noted that "confidence in the outlook is rising as the more extreme negative health scenarios wane given the vaccination progress globally". Domestically, the RBNZ noted that "while economic growth in New Zealand slowed over the summer months following an earlier strong rebound, construction activity remains robust". It acknowledged that "the aggregate level of employment has also proved resilient, while fiscal spending continues to support domestic economic activity". Meanwhile, the members remained concerned about the tourism sector as "the recent opening of Trans-Tasman travel expected to only partially offset revenue losses".
In light of the stronger-than-expected economic developments since the last meeting, the RBNZ projected that the unemployment rate would stay unchanged at 4.7% over 2021, compared with a rise estimated in February. It would then drop further to 4.3% by 2Q24. On inflation, the central bank projected CPI to average at +1.7% in 2022, before climbing higher to +2% by 2Q23 and +2.2% by 1Q24.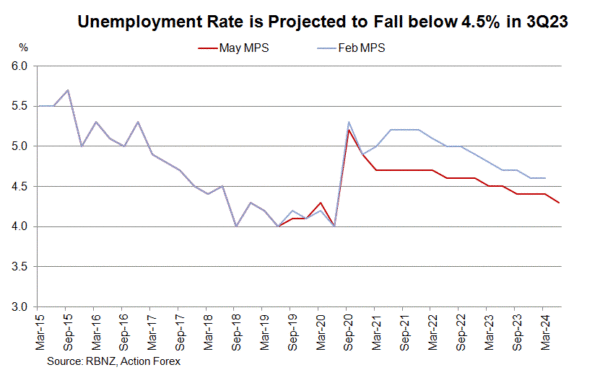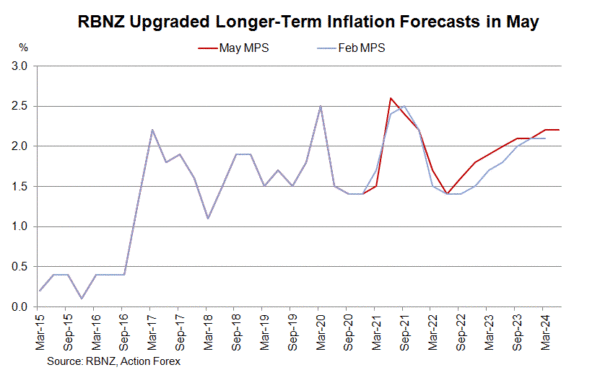 On the monetary policy outlook, the RBNZ now forecast a full +25 bps rate hike by 3Q22, and roughly +150 bps of cumulative hikes by 2Q24. At the press conference, Governor Orr emphasized the high uncertainty around this estimate and that the forecasts were "conditional" to economic outcomes. There were also tweaks in the forward guidance this month. The central bank pledged to maintain its current monetary measures until it is confident that consumer price inflation would be "sustained near" the 2% midpoint target, compared with "at 2%" previously, and that employment is "at" its maximum sustainable level, compared with "at or above" previously.
Elsewhere, the RBNZ noted that the LSAP program (QE) "could not reach the NZ$100B limit by June 2022" due to reduction in bond issuance profile. It added that the "dollar figure was a limit, not a target". The central bank would continue to "adjust weekly bond purchases as appropriate, in particular taking into account market functioning".