As widely anticipated, ECB left the policy rates unchanged in September. It also kept the QE program at a pace of 60B euro per month until end 2017, or longer if needed. At the press conference, President Mario Draghi acknowledged the improvement in the economic outlook but was cautious over inflation, warning that headline CPI could fall to the negative territory towards the end of the year. At the Q&A session of the press conference, Draghi admitted that the members began "preliminary" discussion on the adjustment of the QE program but affirmed that the "big labour market slack" is justified for the record low interest rates. On the updated economic projections, the staff upgraded the GDP growth forecasts but downgraded inflation outlooks. EURUSD broke above 1.2, attempting to retest the 2.5 year high made on August 29 after a brief pullback.
QE Tapering
The first question in the Q&A session is the hottest topic – QE tapering. Regarding this, Draghi admitted the Council had a "very preliminary" discussion about the pros and cons of different scenarios, adding that he is waiting for the works from the committee in charge of the issue. Draghi, however, refused to commit that a timetable on the tapering would be ready in October, nor did he admit discussions over the topic of bond scarcity.
In response to a question from a German journalist concerning the negative side effects of the QE program, Draghi defended by noting that the potential side effects are vastly overwhelmed by the positive effects of the program.
Euro's Strength
Gaining +14% against the US dollar since the beginning of the year, the single currency has risen for 6 consecutive months since March with the rally gathering momentum in late June. The ECB has since the last meeting strengthened its warning over the appreciation of its currency. Draghi warned that "the recent volatility in the exchange rate represents a source of uncertainty which requires monitoring with regard to its possible implications for the medium-term outlook for price stability". Yet, he refrained from commenting whether the current level (1.2 against USD) is excessive.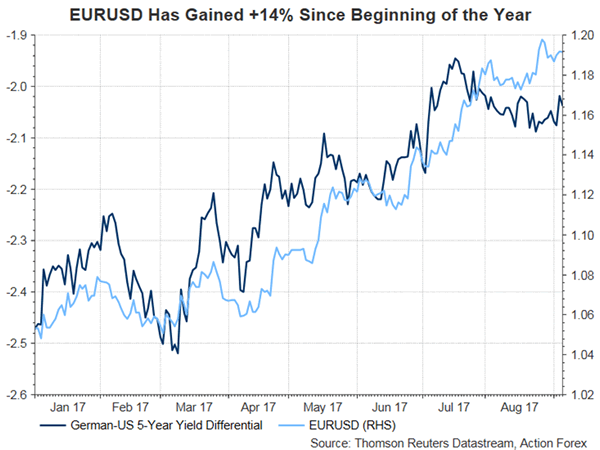 Economic Projections:
ECB has raised its GDP growth forecast to +2.2% for 2017, up from +1.9% projected in June, while those for 2018 and 2019 are kept unchanged at +1.8% and +1.7%, respectively. On inflation, the HICP is expected to improve to +1.5% this year (unchanged from June's projection), before decelerating to +1.2% in 2018 (June: +1.3%) and +1.5% in 2019 (June: +1.6%). While noting that the Council was broadly dissatisfied with the subdued inflation, Draghi called for "confidence, patience and persistence" to wait for inflation to return to the target level and the market as the recovery in the economy feeds through to prices. He added that the target would probably be reached by 2020, the year he steps down as the ECB president!