BOE voted 7-2 to raise the Bank rate by +25 bps to 0.5%, the first time in over a decade, in November. Two deputy governors, Sir Jon Cunliffe and Sir Dave Ramsden, voted to leave borrowing costs unchanged. BOE voted unanimously to leave the asset purchase program unchanged at 435B pound. Governor Carney declined to comment when the unwinding would begin. Traders have begun to dump British pound ahead of the announcement on profit-taking. The selloff accelerates upon release of the meeting statement and the quarterly inflation report. The rate hike this month is to remediate excessive inflation which has sustainably overshot the +2% target for months. We do not believe UK's current growth momentum, clouded by Brexit uncertainty, justifies further monetary tightening in coming months. Indeed, BOE affirmed that "any future increases in Bank Rate will be at a gradual pace and to a limited extent".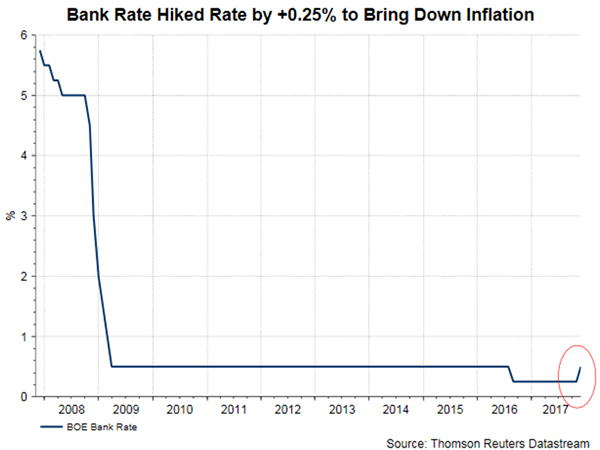 Economic Outlook
BOE forecast steady growth of about +1.7%, while inflation would reach +2.2%, over the next three years. inflation rose to +3% in September, and is expected to "peak above +3% in October, as the past depreciation of sterling and recent increases in energy prices continue to pass through to consumer prices". Carney suggested in the press conference that inflation is "unlikely to return to the 2% target" without a rate hike. Yet, he remained confident that the UK households are "well-positioned" to handle the increase, as the overall monetary policy remains accommodative. Carney also suggested that real wages would gradually pick up soon, as inflation should start to fall next year and wage growth should be boosted by growth in productivity. He added that, despite the improvement, wage growth should remain below historical levels for several years.
Brexit
BOE admitted the Brexit vote has "noticeable impact on the economic outlook". As noted in the accompanying statement, "the overshoot of inflation throughout the forecast predominantly reflects the effects on import prices of the referendum-related fall in sterling. Uncertainties associated with Brexit are weighing on domestic activity, which has slowed even as global growth has risen significantly" It added that "Brexit-related constraints on investment and labour supply appear to be reinforcing the marked slowdown that has been increasingly evident in recent years in the rate at which the economy can grow without generating inflationary pressures".
Monetary Policy
The members judged "it appropriate to tighten modestly the stance of monetary policy in order to return inflation sustainably to target". They also agreed that "any future increases in Bank Rate will be at a gradual pace and to a limited extent". Note that the central bank this time dropped the reference that rate needs to rise more than market expects, signaling it might pause for some time after this increase. BOE's forecasts suggest two more rate rises over the coming three years.