As widely anticipated, ECB left the policy rates unchanged, with the main refinancing rate, the marginal lending rate and the deposit rate staying at 0%, 0.25% and -0.40% respectively. The focus of the meeting was on the updated economic projections and the press conference. For the former, accompanying the upbeat statement were upgrades of GDP growth and inflation forecasts. The staff has also unveiled the 2020 outlook for the first time. For the latter, little news revealed with President Mario Draghi refraining from discussing the internal division over the future of the QE program. He, however, reiterated that the monetary policy should remain accommodative as inflation has yet to be self-sustainable.
The members turned more optimistic over the economic developments. As mentioned in the accompanying statement, the updated economic forecasts indicate 'a strong pace of economic expansion and a significant improvement in the growth outlook'. However, they remained cautious over the inflation outlook, suggesting that it has 'yet to show convincing signs of a sustained upward trend'. As such, 'an ample degree of monetary stimulus therefore remains necessary for underlying inflation pressures to continue to build up'. We believe this is consistent with the 'dovish tapering' stance it adopted in October, when it announced to shrink the asset purchase program. The tone is reminiscent of the Fed when it announced tapering of the QE program back then, although Draghi in the last meeting emphasized that the ECB is not Fed!
The staff upgraded the GDP growth estimates, forecast growth to reach +2.3% in 2018 and +1.9% in 2019, up from previous projections of +1.8% and +1.7%, respectively. The projection also includes a forecast for 2020 for the first time. The central bank projects growth to be +1.7% in 2020. Thanks to energy prices, inflation forecast as revised higher, by +0.2 percentage point, to +1.4% in 2018. However, core inflation is revised -0.2 percentage point lower to +1.1% next year. Inflation forecast stayed unchanged for 2019, with both headline and core HICP readings at +1.5%. For 2020, headline and core inflation are projected to be +1.7% and +1.8% respectively.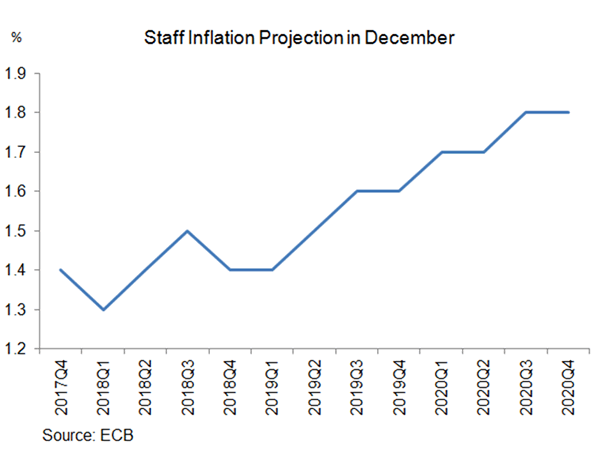 There was little news on the asset purchase program, of which the central bank announced the reduction in the pace from 60B euro to 30B euro per month, effective January 2018. Draghi also refrained from discussing more about the monetary policy outlook. He was in the same tone as what was suggested in forward guidance: interest rates would stay at current low levels until 'well past' the end of the asset purchase program. He noted that an abrupt end of the program was never discussed.