RBNZ left the OCR unchanged at 1.75% in May. The message delivered by the central bank came in slightly more dovish than expected, sending NZDUSD to a fresh 5-month low. In his first meeting in the capacity of the RBNZ Governor, Adrian Orr made some changes in the policy statement, of which the reference that "the direction of our next move is equally balanced, up or down. Only time and events will tell" has caught the most attention.
Policymakers remained positive over the economic developments, noting that "growth and employment in New Zealand remain robust, near their sustainable levels". The central bank attributed the recent growth in demand to the unprecedented increase in employment. It acknowledged the rise in number of willing workers and participation of net immigration in the labor market. Yet, the central bank slightly lowered its GDP growth forecast to +3.3% for end-2018, down from +3.4% projected previously, and to +3.2% for end-2019, down from +3.5% prior. Growth would then slow further to +3% by end-2020, unchanged from previous forecast.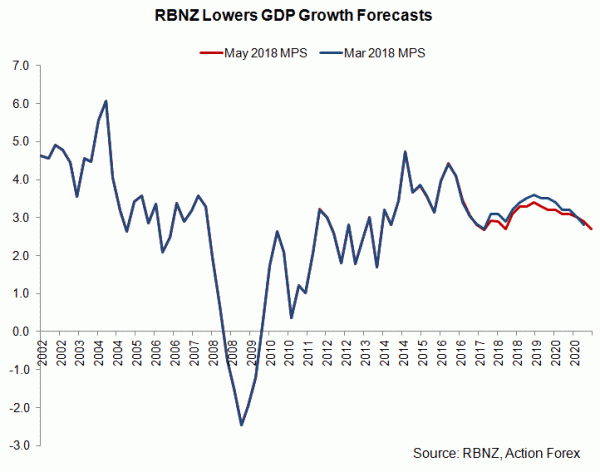 Inflation remained subdued, staying below the +2% mid-point of the target, as a result of "recent low food and import price inflation" and "subdued wage pressures". RBNZ revised lower its inflation forecasts slight for coming quarters slightly. It does not expect CPI to reach 2% until 4Q20, compared with 3Q20 prior.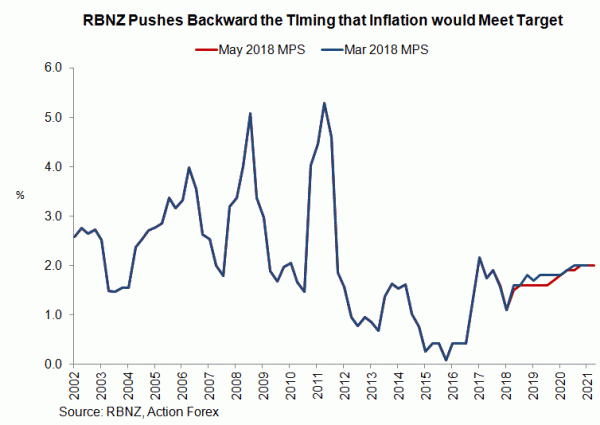 On the monetary policy outlook, the members expect the policy rate would stay at "expansionary level for a considerable period of time", in order to achieve the goal of maximum and sustainable employment, and low and stable inflation. As mentioned above, RBNZ indicated "the direction of our next move is equally balanced, up or down". When we compared it to the reference in March that "Monetary policy remains easy in the advanced economies but is gradually becoming less stimulatory", the current tone is obviously more dovish. The latest projections signal that while the next move will be a rate hike, it should not occur before late-2019. The path thereafter would also be gradual.