The US-China trade war continues to evolve. The upcoming important event would be the G-20 summit on June 28 and 29. US' Donald Trump has recently noted that he expects to meet China's Xi Jinping, or would impose 25% tariff on the rest of US$300B Chinese exports. The latest trade report from China appears unaffected by Trump's new tariff announced in May. However, a close look at the data shows that the trade war is already having negative impacts on Chinese economy.
China's trade surplus jumped to US$ 41.7B, highest in 5 months, in May. The strong reading was driven by an unexpected exports growth and a sharp contraction in imports. Despite the strong headline reading, the report shows that the intensified US- China trade war has had real impact in the Chinese economy. The front-loaded trade in order to avoid new tariff signals exports growth should worsen in the second half of the year, while deeper contraction in imports is a proof of weakness in domestic demand.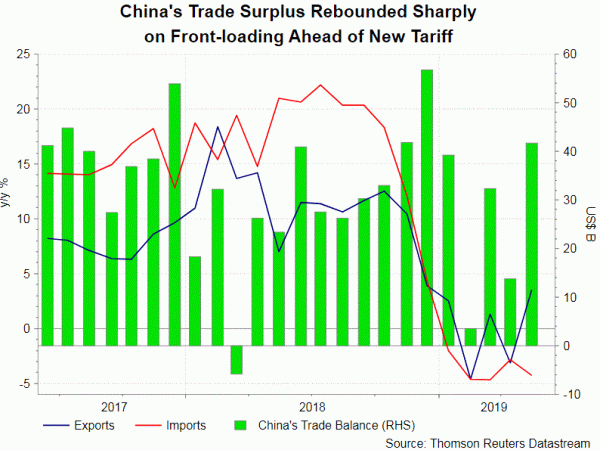 Exports in May grew +1.1% y/y, compared with consensus of -3.9% and April's -2.7%. Notwithstanding fewer working days in May and weak manufacturing sentiment, the upside surprise was mainly driven by front-loading of exports. Trump, in early May, announced to increase tariff on US$200B worth of Chinese goods from 10% to 25%. This had caused traders to arrange shipments ahead of the original effective date of June 1. The trade department on May 31 released a statement indicating that "covered products that were exported from China to the US prior to May 10, 2019 will remain subject to an additional 10% tariff if they enter into the US before June 15, 2019". We expect this change, together with expectations that Trump to impose tariff on the rest of US$ 300B exports from China, would lead to further front-loading effect in the first half of June.
Country-wise, China's exports to US contracted -4.16% y/y. While staying in contraction, it narrowed from the severe -13.1% a month ago. Exports to other advanced economies were mixed. While the shipment to Japan gained +0.5%, up from a -16.3% contraction previously, export growth to EU countries slipped modestly to +6.1% from April's +6.5%. Exports to emerging markets were also mixed. Shipment to Taiwan was the strongest, growing +12.8% in May, after a +4.7% growth in the prior month. Exports to Korea added +1.8%, following a -7.6% contraction in April. However, exports to Russia slumped -13.8% y/y in May, compared with a +2.6% growth in April, while those to Brazil sank -27.1%, following a +11% growth in April.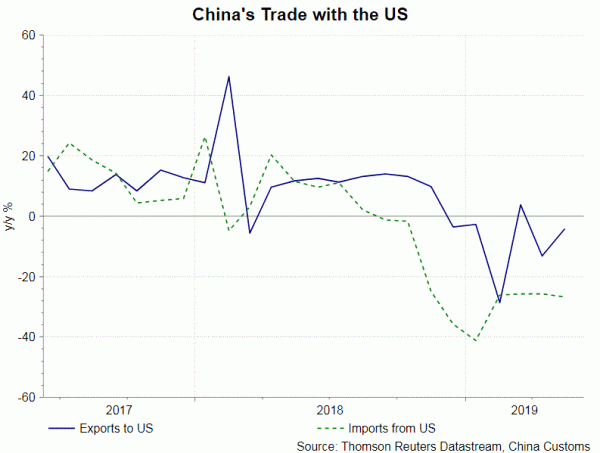 Imports contracted -8.5% y/y, weaker than consensus of -3.5% and April's -2.8%. The contraction was broadly based, suggesting dismal economic developments domestically. Notably, imports from the US contracted -26.78% y/y in May, marking the 9th month in the negative territory. Imports from Korea  contracted  18.2% y/y in May, deteriorating from -2.4% a month ago. Imports from Taiwan also declined -8.3%, worsening form April's-6.8%. Imports from Japan turned to contraction from expansion. These are the major countries for meeting China's demand on electronic and electric goods. Elsewhere, import form Brazil declined -17.8% y/y in May, following a strong +20.4% expansion in the prior month. Imports from Australia expanded +5.2%, markedly easing form +18% in April. China buys from both countries for satisfying the commodity needs. The country-wise analysis shows that Chinese demand for both electronic, electric and commodity products deteriorated in May.
While the front-loading effect might lift the exports growth in June, the outlook for the rest of the year is gloomy and with high uncertainty. More key macroeconomic data for China would be released on Friday. Another upcoming important event is the G-20 summit scheduled on June 28 and 29. Trump has recently threatened to immediately raise tariff of the remaining US$300B of Chinese exports if he could not meet Xi Jinping during the summit.