The official manufacturing PMI for China climbed +0.5 point higher to 51.7 in November, another month of big increase after October's 0.8-point gain. The non-manufacturing PMI (services and construction activities) soared +0.7 point to 54.7. The services PMI added +1.1 points to 53.7, while the construction PMI slipped -1.4 points to 61.4. The Caixin/Markit version of manufacturing PMI, by contrast, fell to 50.9 in November from a 27-month high of 51.2 a month ago. Despite the fall, Markit noted that it remains the second-highest reading in 2 years and indicates that 'the manufacturing industry continued to pick up steam'. Moreover, although index readings for both output and new orders declined, those 'tracking input and output prices rose at a faster pace to hit their highest levels in 5 years, pointing to further intensification of inflationary pressure'.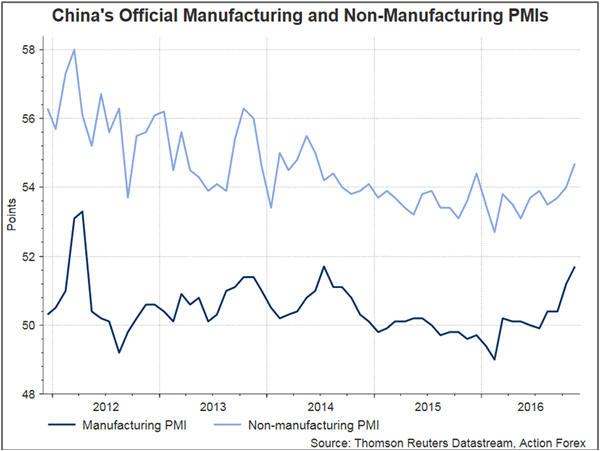 The improvement in the manufacturing sector was broadly based, suggested in the official report. Growth was seen new orders, trade, employment and inflation. According to the National Bureau of Statistics, the 'new orders' index rose to 53.2, from 52.8 in October, whilst the 'production' index gained +0.6 points to 53.9. Concerning foreign trades, the 'export orders' index rebounded to 50.3 from 49.2 in October, and the 'import' index rose to 50.6 from 49.9 previously. On the job market, the 'employment' index added +0.4 point to 49.2 in November. Inflation outlook also improved with the 'input prices' index jumping +5.7 points to 68.3, the highest level since early 2011.
In terms of company size, the PMI for large companies jumped to 53.4 from 52.5, that of medium size companies added +0.2 point to 50.1, whilst that for small size companies fell -0.9 point to 47.4. This suggested that the strong headline reading was mainly driven by large size companies. This was compared with the situation in October when small size companies were taking the lead.
The Caixin/Markit manufacturing index, by contrast, fell in November, with growth in both the 'output' and 'new orders' indices decelerated. The agency remained upbeat on CHina's outlook, though, suggesting that 'the Chinese economy continued to improve in November, although it lost some momentum compared to the previous month'. It added that 'inventory and employment data also showed the foundation of growth is not solid yet and investors have to remain vigilant about the risk of a downturn in coming months'.