Purchasing Manager Indices (PMIs) suggested that the manufacturing China improved in November. Improvement in manufacturing PMIs signaled that upcoming industrial production data can surprise to the upside.
The official PMI improved +0.9 point to 50.2 in November. This marks the first expansion (above 50) since March and the second largest reading in the year. The sub-index of new orders climbed +1.7 points to 51.3. Meanwhile, the sub-index of new exports orders also gained +1.8 points to 48.8. While exports demand recovered, it stayed in contractionary territory. This signaled that the over new orders were supported by domestic demand. This view was reinforced by the improvement in imports sub-index from October's 46.9 to 49.8, just shy of the 50 benchmark. Price indicators signaled weaker inflation. The pattern comes in line with recent inflation data with core CPI subdued and upstream PPI deepened into deflation.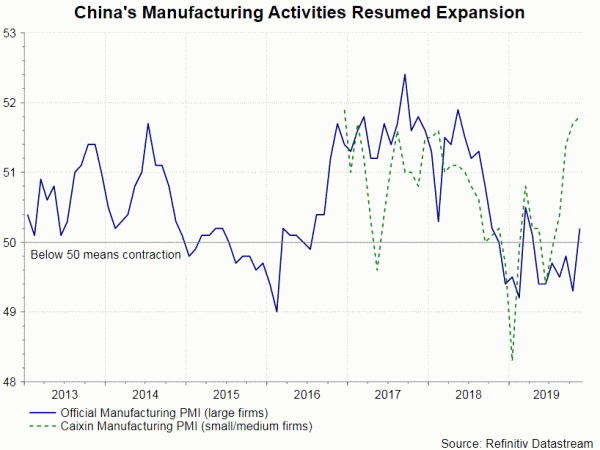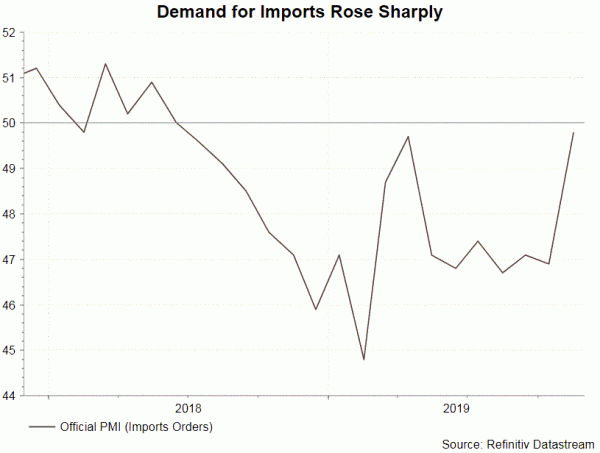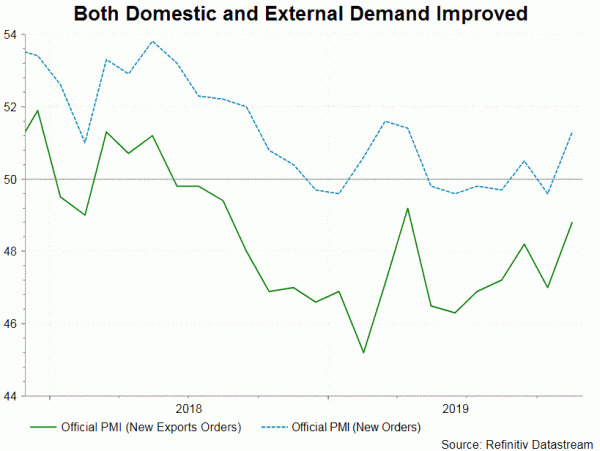 Focusing on small and micro enterprises, Caixin manufacturing PMI climbed higher, by +0.1 point, to 51.8 in November. This marks the strongest reading since December 2016. The underlying components delivered a mixed message. While staying firm in expansion, new orders sub-index slipped to 52.8. New exports sub-index slipped -0.1 point to 51. Price indicators were mixed. The output prices sub-index added+ 0.2 point to 49.8 while the input prices sub- index slipped – 0.7 point to 50.4. The improvement in the overall PMI was driven by the job market. The employment sub-index rose +1.9 points to 50.1, the second strongest reading since late 2013. It is suggested in the accompanying statement that both domestic and overseas demand rose. Meanwhile, the employment situation returned to expansion. However, it remained cautious as "business confidence remained subdued".
While the November readings could have been affected seasonal factors, including warmer winter especially in Northern China, and the double-11. The overall report indicates stabilization in both domestic and external demand. Government's stimulus measures such as recent rate cuts in medium-term lending facility (MLF) and open market operations (OMO) have injected liquidity to the market. Meanwhile, market optimism over the Phase I of trade deal also helped.