Headline CPI improved further to +2.5% y/y in June, from +2.4% a month ago. This came in line with market expectations Core CPI (excluding food and energy) eased to +0.9% y/y, from +1.1% in May. While staying in the negative territory, PPI improved to -3% y/y in June, up from -3.7% a month ago. This came in better than consensus of -3.2%. Inflation is expected to slow in the coming months as the flooding-driven increase in food prices should prove short-lived. The inflation report affirmed our view that PBOC will maintain an expansionary, but targeted, monetary policy stance.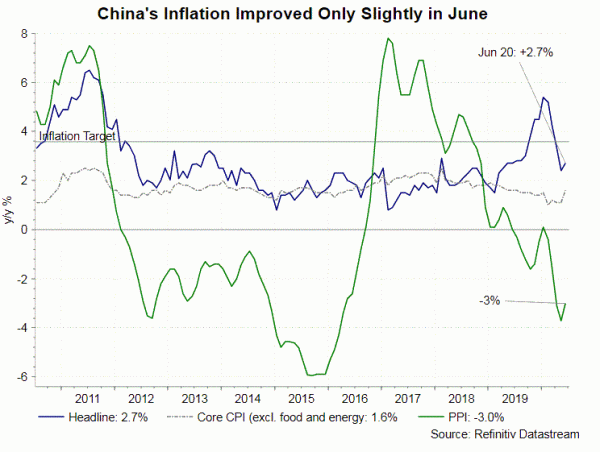 The mild pickup in headline CPI was mainly driven by food price, which accelerated to +11.1% y/y, from +10.6% in May. Fresh vegetable price jumped +4.2% y/y in June, after contracting -8.5% a month ago. As suggested in the accompanying statement, the increase was attributed to regional flooding and measures related to the coronavirus outbreak in Beijing. Pork inflation steadied at +81.6% y/y in June. Interestingly, price of fresh fruits plunged -29.0% yoy in June, worsening from -19.3% in the prior month. Non-food eased to +0.3% y/y in June, from May's +0.4%. Deflation in China persisted. Sector-wise, deflation in the petroleum industry moderated the most, followed by the steel sector.
More macroeconomic indicators for June will be released next week. Both official and Caixin/ Markit PMIs suggest economic activities continued to improved last month. Manufacturing PMI added +0.5 point to 51.2 in June, beating consensus of 50.5, while services PMI gained +3.4 points to 58.4. The accompanying report revealed that the job market remained weak, though. Despite the improvement, we expect the challenges remain. The sluggish inflation outlook still allows for an expansionary monetary policy. As we mentioned in the previous report, China is facing a dilemma of huge debts and weak economy. Economic policies for handling one problem could exacerbate another. Going forward, we continue to expect further reduction in RRR and interest rates. Yet, they will be implemented more cautiously and in a targeted manner.