China's inflation surprised to the upside in December. Thanks to food price, headline CPI improved to +0.2% y/y in December, compared to deflation of -0.5% a month ago. Food inflation rebounded to +1.2% y/y, after contracting -2% a month ago, as pork price deflation narrowed to -1.3% from November's -12.5%. Inflation in fresh fruit accelerated to +6.5% in December, from +3.6% in the prior month. Non-food price was flat from the same period a year ago, following a deflation of -0.1% in November. Core CPI, inflation excluding food and energy, eased to +0.4% in December.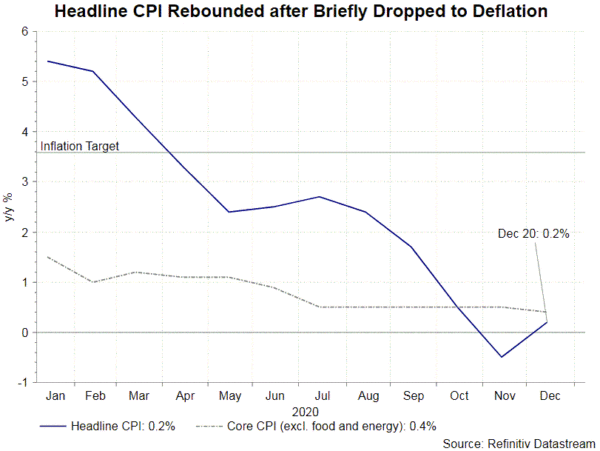 Upstream PPI deflation eased to -0.4% y/y in December, from -1.5% a month ago. Caution should be taken in analyzing China's inflation in January and February due to seasonal factor. Chinese New Year holiday will happen in February this year, compared with January in 2020. This could have distorted January's inflation to the downside.
For the year ahead, we expect to see divergence in China's upstream (PPI) and downstream (CPI) inflation. After a year of weakness, commodity prices should improve this year. Indeed, China's manufacturing PMI reports have shown pickup in input prices over the past months. The official (NBS) manufacturing PMI report showed that the input price sub-index rose to 68 in December from 62.6 previously, while the Caixin report showed a 4.5-point rise to 59.2 in the corresponding index. The recovering trend suggests that the country's PPI could gradually return to the positive territory this year.
The outbreak of the African Swine Fever in China in 2018/19 led to a sharp fall in hog stock, causing rallies in pork price. This has been the key support to the country's headline CPI since then. As the impacts of the outbreak have largely been tamed, hog stock and hence pork price are returning to normal. We expect this would cause headline CPI to moderate in the year ahead.