The CFTC Commitments of Traders report in the week ended May 21 shows that NET LENGTH in USD Index edged slightly higher, by +35 contracts, to 26 712. Both speculative long and short positions increased during the week. All other major currencies stayed in NET SHORT positions.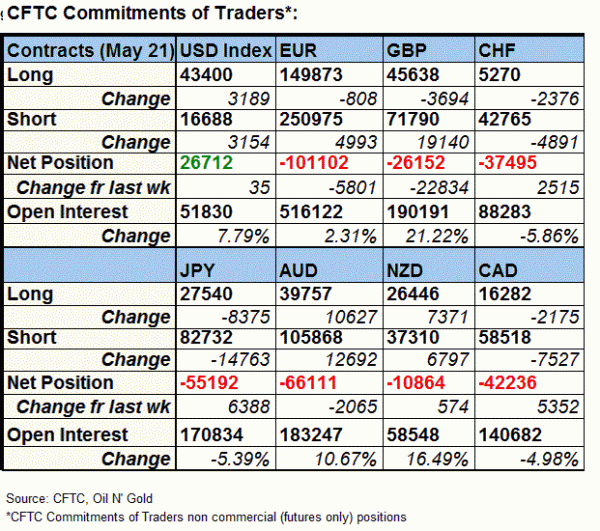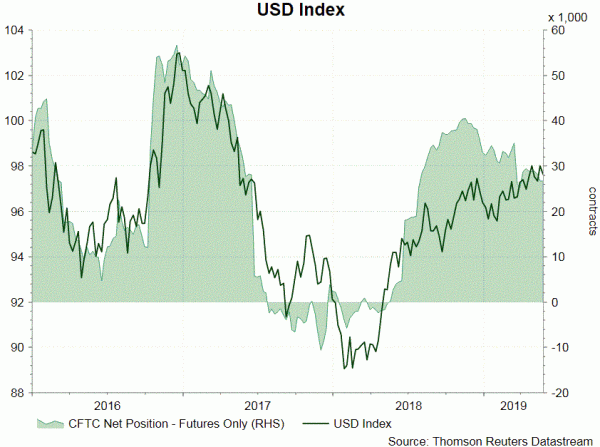 Concerning European currencies, NET SHORT for euro futures increased +5 801 contracts to 101 102. NET SHORT for GBP futures jumped +22 834 contracts to 26 152. Speculative long positions dropped -3 694 contracts while speculative shorts gained sharply, by +19 140 contracts, for the week. Besides the European Parliament election, there are a number of factors causing volatility both currencies in coming weeks. For euro, the ECB minutes showed that policymakers were less confident about the economic outlook. They were concerned that their growth projections could be missed. With the policy rate staying in negative territory for years, it could be challenging for the central bank to implement measures to stimulate the economy. The market is closely awaiting technical details about the new tranche of TLTROs. Moreover, the members are also discussing the adverse impacts of negative interest rates on the banking sectors and potential measures to mitigate these impacts. Concerning British pound. Just a few days after the announcement of a revised plan to Brexit, UK PM Theresa May announced that she would resign on June 7. "Who would be the next PM?" and "How would Brexit negotiate proceed?" are the country's major political and economic uncertainties. These are expected to cause significant volatility in Sterling.
On safe-haven currencies, Net SHORT for CHF futures fell -2 515 contracts to 37 495. NET SHORT for JPY futures declined -6 388 contracts to 55 192 during the week. Speculative long positions dropped -8 375 contracts while shorts plummeted -14 763 contracts.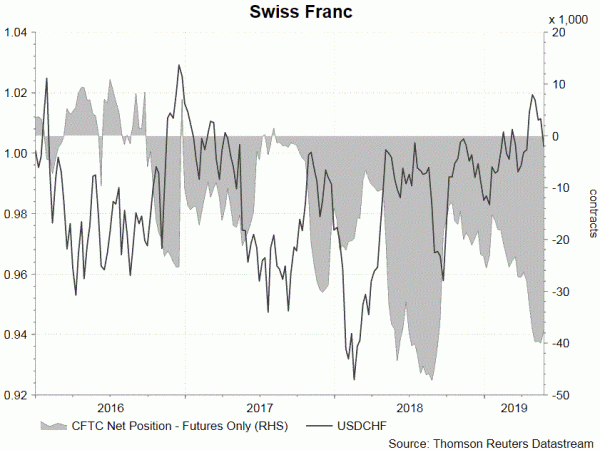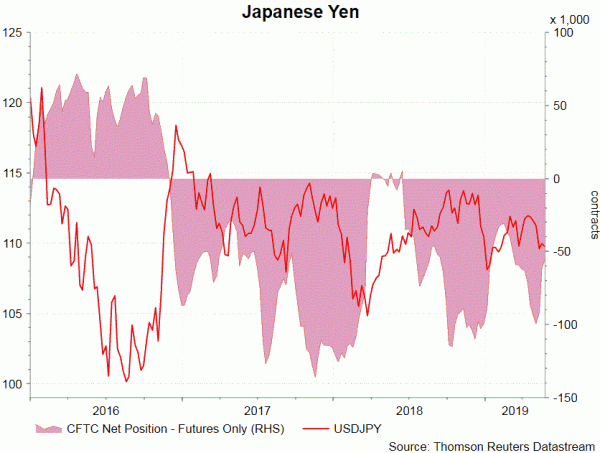 On commodity currencies . NET SHORT for AUD futures rose +2 065 contracts to 66 111. Speculative long positions gained +10 627 contracts while shorts rose +12 692 contracts. Separately, NET SHORT for NZD dropped -574 contracts to 10 864 contracts last week. NET SHORT for CAD futures fell -5 352 contracts to 42 236.