The CFTC Commitments of Traders report in the week ended June 4 shows bets for US dollar dropped on bog long and short sides. NET LENGTH in USD Index dropped -864 contracts to 26 234. Both speculative long and short positions decreased during the week. Traders continued to trim their bets on USD as they awaited the FOMC meeting scheduled on June 19. The market has heightened hopes for a Fed rate cut later this year. As of last Friday, the market believed that there is one in four chance of a rate cut next week, up from 10% a month ago. There is over 80% chance that there would be two rate cuts by end-2019. All other major currencies stayed in NET SHORT positions.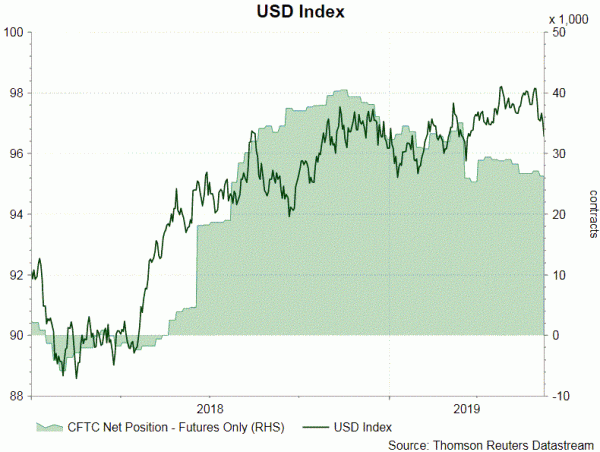 Concerning European currencies, NET SHORT for EUR futures declined -12 140 contracts to 87 551. Note that the reporting period preceded the June ECB meeting. ECB turned out less dovish than the market had anticipated, we believe NET SHORT for the single currency to trim further in the coming as traders might find it difficult to sell it aggressively. NET SHORT for GBP futures, however, rose +15 766 contracts to 47 762. Speculative long positions fell -9 798 contracts while speculative shorts rose +5 968 contracts for the week.
On safe-haven currencies, Net SHORT for CHF futures gained +1 390 contracts to 36 065. NET SHORT for JPY futures declined -11 188 contracts to 44 3889 during the week. Speculative long positions gained +1 634 contracts while shorts plunged -9 554 contracts.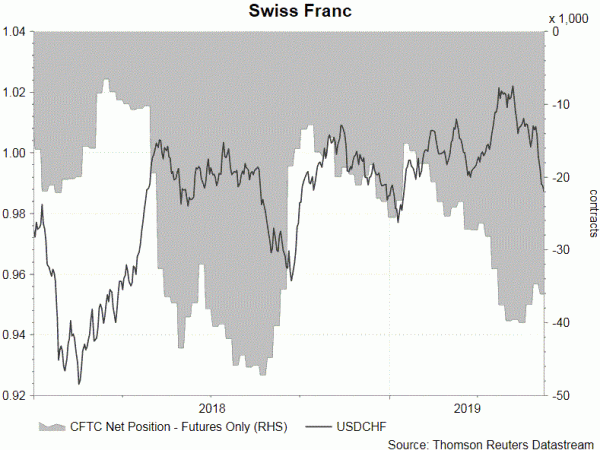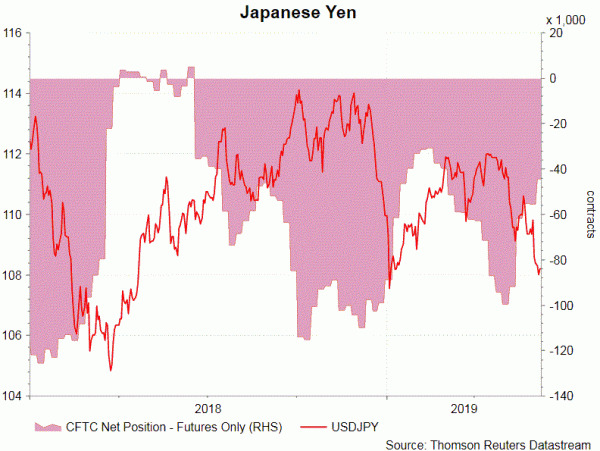 On commodity currencies, NET SHORT for AUD futures dropped -3 102 contracts to 63 291. Speculative long positions dropped -2 349 contracts while shorts fell -5 451 contracts. The market had well- expected RBA's rate cut last week. Separately, NET SHORT for NZD gained +4 248 contracts to 20 396 contracts last week. NET SHORT for CAD futures added +2 336 contracts to 41 759.