Uncertainty about US-China trade war continues. While negotiations are schedule to resume next week, chance of reaching resolution is low. While some have warned that 'when China sneezes, the world catches cold', there are economies that benefit from the trade conflict. It appears that the economy of Taiwan, which China considers to be a renegade territory, has benefited from trade diversion.
GDP growth in 2Q19 improved to an annualized +2.2% q/q in 2Q19. The Directorate-General of Budget, Accounting and Statistics (DGBAS) affirmed its forecast of full-year 2019 growth at +2.46%, a figure upgraded in August. Growth in 2020 is projected to +2.58%. Last month, Taiwan's central bank also revised its GDP growth forecast to +2.4% and +2.34% for 2019 and 2020, respectively. Industrial production grew +2.3% y/y in August, while the July reading was revised higher to +3.77%. Sector-wise, output on electronic components improved. The index for electronic parts and components (EPC) rose to a 10-month high of +9.5% y/y, from +6.3% in July. Within this sector, integrated circuits production soared +20% y/y, accelerating from +14.7% in July and the highest since May 2018.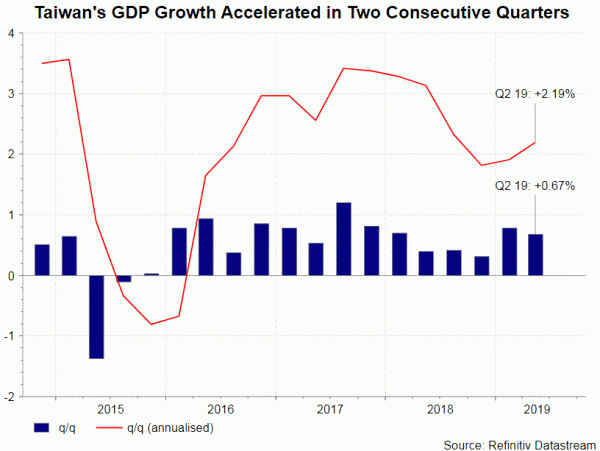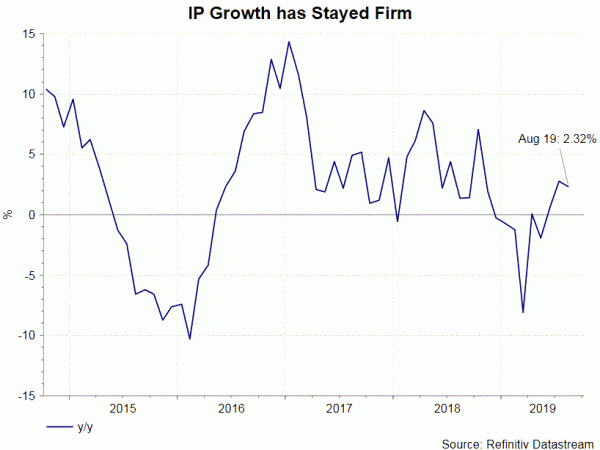 Trade data surprised to the downside in September. Exports contracted -4.6% y/y in September, while the August reading was revised higher modestly to +2.8%. The decline in September was likely driven by high base effect as last September's reading was at record high. From a month ago, exports slipped -0.3%, following a +1.5% growth in July. Taiwan's Ministry of Finance forecast that the figure next month will remain in contraction, but expected growth will resume, probably in November, as base effect dissipates.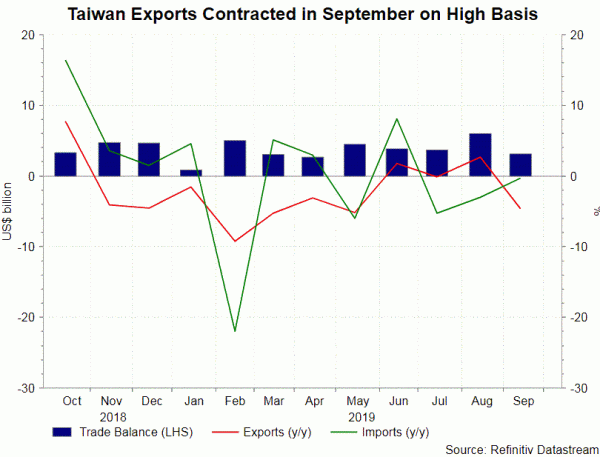 The overall picture of Taiwan economy has remained resilient, thanks to trade diversion. In order to avoid US tariff on Chinese exports, many factories "return home" from China. A Nomura report last month suggested that 40 Taiwanese companies are planning to shift production back home from China. At the same time, the Taiwanese government is trying to capture this trend through incentive. Initiatives providing low cost loans and tax reduction have been launched to encourage Taiwanese companies to invest domestically.