Following Brexit and Donald Trump's victory in US presidential election, the Italian referendum this coming Sunday is the latest event that could cause huge volatility in the financial markets. Indeed, with the "no" camp leading in opinion polls, Italian shares and bonds have underperformed of late. The banking sector has suffered most with the FTSE Italia Banks Index losing almost -9% in November. Italy's FTSE MIB index has fallen -2.65% this month, compared with a -0.74% drop in the pan-European Stoxx600 index. Meanwhile, the 10-year Italian/German yield spread widened to a 1.5-year high of 1.874% last Thursday. The market's key concern is that a "no" vote leading to resignation of Prime Minister Matteo Renzi would trigger massive selloff in bank shares, forcing the debt-ridden Banca Monte dei Paschi di Siena to suspend plans for a critical 5B euro capital increase and then making other banks, such as UniCredit, to delay similar plains too. Such risks might be contagious, spreading to other peripheral countries and result in another European financial crisis.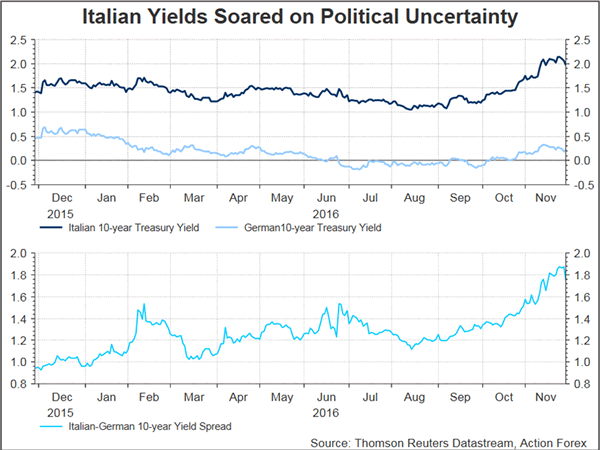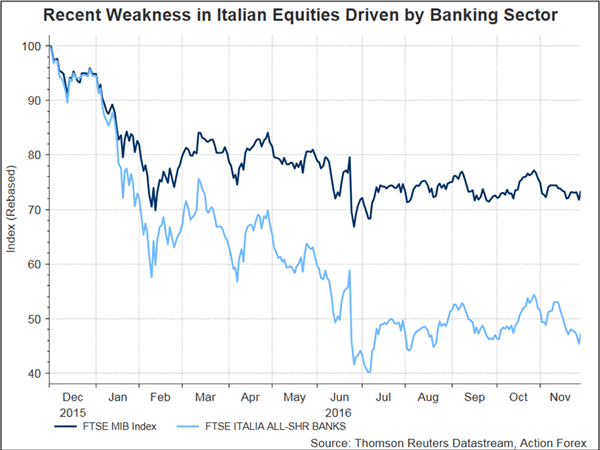 Details of the Referendum:
The referendum to be held on December 4 is to decide on a major constitutional reform. Voters would decide on whether they should approve or reject a bill, which was already approved by the parliament, to reduce the number of senators to 100 from the current 315. They would also vote on whether to end the perfect bicameral system of the Italian parliamentary system in which both the Senate and the Lower House have equivalent powers. Under the current system, the Senate can effectively veto the Lower House's rulings and vice versa. If the reform is approved, the Senate would retain some control functions but has no veto power. Meanwhile, the voters would also decide on the containment of the institutions' operating costs, abolition of the CNEL and revision of Article V of Part II of the Constitution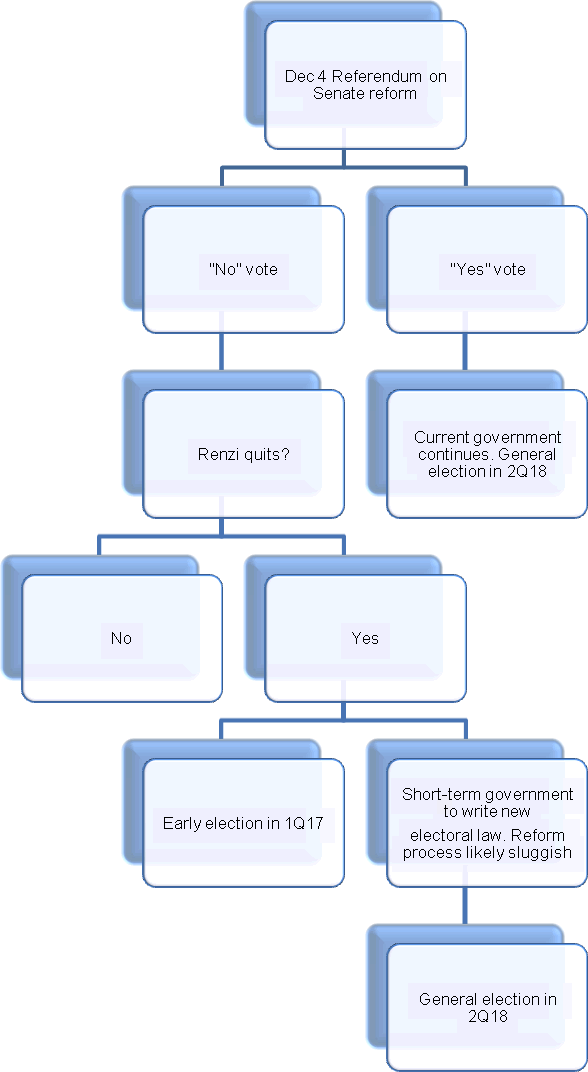 A "No" Vote and Italy's Credit Ratings
While opinion polls might have lost some credibility following the Brexit referendum and the US election, the lead of the "no" camp in the Italian referendum has raised market concerns. Meanwhile, the blackout period from November 19 to December 4 might have made the polling results "dated". Yet, the market has priced in a "no" vote and, more importantly, both polling results and the stance of individual parties (Renzi's party is divided on the reform, while opposition parties are against it) have suggested a higher probability for a "no" outcome. Our base case is a "no" vote, followed by Renzi's resignation. We do not expect an early election.
Downgrades on Italy's credit rating should be expected under such scenarios. Take a look at rating agencies' comments in case of a "no" vote.
S&P: If the referendum is rejected, we do not believe this would be significant for Italy's creditworthiness, unless it leads to a reversal of structural reforms
DBRS: If the constitutional referendum fails to be approved… this outcome could lead to a downgrade
Moody's: Downward pressure would build if there is… a failure to implement planned structural reforms
Fitch: Political instability disrupting economic and fiscal policies and outturns… could trigger a downgrade
Note that downgrades from S&P and DBRS would be alarming. A S&P downgrade would take Italy into sub-investment territory (BB+), while a DBRS downgrade would bring Italy's rating to the BBB area (DBRS is the only agency that keeps Italy in the A area). The latter means an increase in the haircuts (from 3% to 11.5%) for banks using 7- to 10-year BTPs as collateral for ECB operations. Risks to further deterioration in Italy's banking sector outlook would thus be increased.
ECB Haircut Schedule for Category 1 (Central Bank and Central Government) – Fixed Coupon Assets
| | | |
| --- | --- | --- |
| Residual Maturity (years) | Credit Quality 1 and 2 AAA to A- | Credit Quality 3 BBB+ to BBB- |
| 0-1 | 0.5% | 6% |
| 1-3 | 1% | 7% |
| 3-5 | 1.5% | 9% |
| 5-7 | 2% | 10% |
| 7-10 | 3% | 11.5% |
| >10 | 5% | 13% |