After breaking several technical levels, New Zealand dollar looks vulnerable to further fall against both Australian dollar and US dollar. We believe the selloff over the past few days is driven by several factors, including weakness in soft commodity prices, unwinding of net speculative long positions, government's GDP growth downgrade and uncertainty in the upcoming parliamentary election.
Commodity Prices Retreated after Reaching Peaks
Recent rally in base metal prices has lifted Aussie. However, it does not offer the same advantage to its counterpart, New Zealand, where most exports are soft commodities such as dairy (around 40% of NZ exports), meat and wood. Prices weaknesses in these categories are weighing on New Zealand dollar. For instance, global dairy price in aggregate dropped -2% in the first two weeks in August. According to ANZ's estimates, meat price fell for the first time this year in July, losing -3.38% m/m as lamb prices fell more almost -7%. The overall commodity price index also dropped -0.77% last month.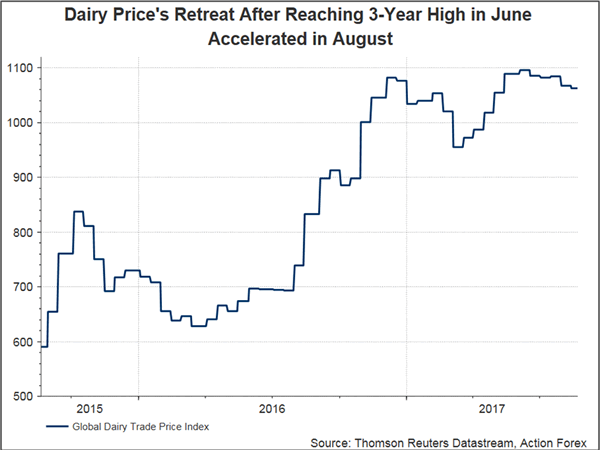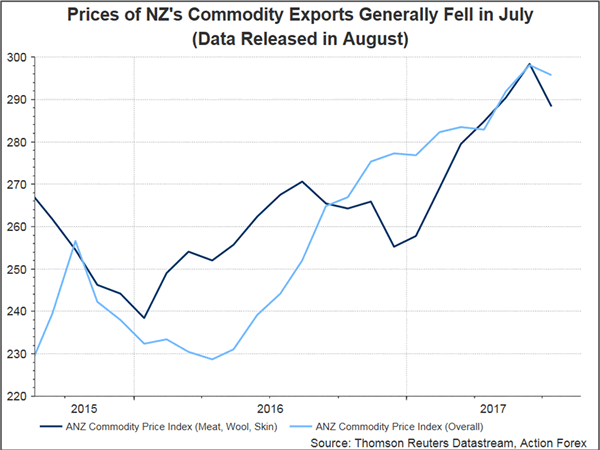 Unwinding of Net Speculative Long Positions
Net speculative long positions have accelerated since mid-June, eventually rising to a record high of 35 981 contract on the week ending July 19. NZDUSD also peaked a week later that speculators unwound their positions. The latest report shows that net long positions plunged -8 646 contracts to 24 835 in the week ending August 15. This biggest weekly decline in 11 months exacerbated kiwi's decline. We believe unwinding has more to come as the current level of net long positions stays at the highest level since 2013. As such, further decline in kiwi is likely.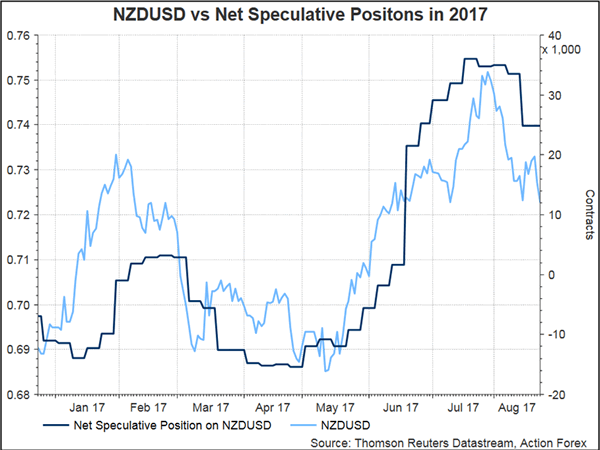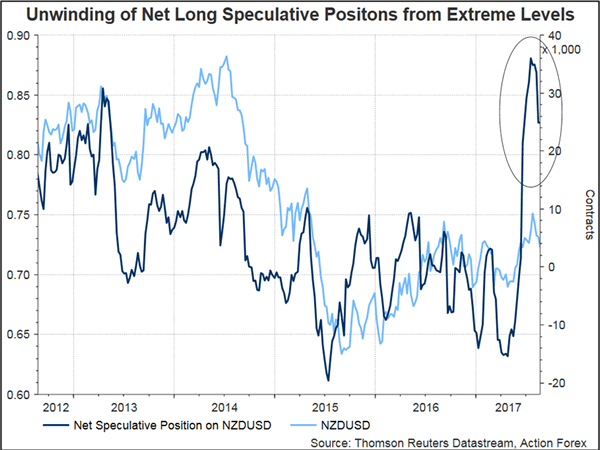 GDP Growth Downgrade
As suggested in the Pre-election Economic and Fiscal Update (PREFU) released on Wednesday, the government revised lower New Zealand's GDP growth forecast to +2.6% for the year to June, from May's projection of +3.2%. It also lowered GDP growth to +3.5% for the next year from +3.7% previously. This overshadowed the upward revision on the budget surplus forecast to NZ$3.706B in the year to June, from the previous NZ$1.62B. The increase was driven by strong corporate tax revenue which was only a one-off factor. Meanwhile, lower growth outlook implies less potential tax revenue. This might affect future budget.
Upcoming Election is a Tight Race
Like many of the elections over the year, the upcoming New Zealand general election is highly uncertain. Recent polls have been suggesting that no political party would be able to get at least 61 seats out of 120 and form a majority government at the general election to be held on September 23. Back in 2014 the National Party missed a majority by one seat. Poll of polls showed that the support for the National Party has been slipping gradually while that for the Labour Party, the major opposition, is increasing. Support for Nationals fell to 43-44% as of August 18, from 47-48% a week ago. During the period, support for Labors jumped to around 34%, from below 30%. If we consider the Labour- Green alliance, the support remains shy of 50% and even below that of Nationals'. It is widely believed that the kingmaker would be the populist NZ First party. We find some of NZ First's agenda NZD-negative. For instance, it proposes to reform the RBNZ to create an exporter friendly "sensible exchange rate regime", review all existing free trade agreements (FTAs) and limit foreign investment by adopting "national interest test". Meanwhile, its proposal to cap net migration at 10K per year might dampen New Zealand's growth outlook in the longer term. Certainly, NZ First's proposal of the most expensive fiscal policy- NZ$22.5B in new spending over the next three years- might be NZD-positive. Since it is likely a neck-and-neck race between Nationals and Labours, no one would say in confidence which party would get the most seats and which party(ies) would be able to form a government before the election. We believe the kiwi's volatility would increase as Election Day approaches.
Key Dates:
| | |
| --- | --- |
| Tuesday 29 August | Nominations close for individual electorate candidates |
| Monday 11 September | Advance Voting starts |
| Saturday 23 September | Election Day |
| | Preliminary results released progressively from 7.00pm on |
| Saturday 7 October | Official results for general election declared |
| Wednesday 11 October | Deadline for applications for Judicial Recount |
| Thursday 12 October | Return of Writ showing successful electorate candidates |
Source: http://www.elections.org.nz