British pound's post-BOE rally has more than evaporated over the past two weeks. Political uncertainties and the lack of progress in Brexit negotiations are the key reasons driving sterling lower. Despite mounting pressure on PM Theresa May to step down, we believe it would be hard to materialize as there lacks charismatic leaders within the Conservative Party and the move might trigger a snap election and a Labor government. Progress of Brexit talks has remained slow. The next round of talk in Phase I would begin this week, amidst EU Parliament's overwhelming vote that previous talks has not brought sufficient progress. EU member states are due to vote next week to decide whether the talk can progress to the next phase. It is getting likely that BOE would increase the Bank rate by +25 bps in November. However, we do not consider this as the beginning of a tightening cycle as UK's macroeconomic developments remains fragile.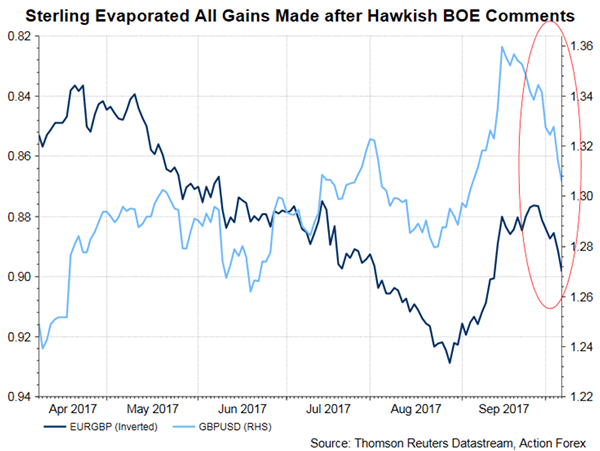 May to Step Down?
PM Theresa May is facing increasing pressure to resignation after her Conservative conference speech last week. It is widely believed that the key problem is not the content of the speech, but the way of delivery. It was reported that 30 of the Conservative MPs have agreed to sign a letter demanding her to step down. Under Conservative Party rules, 15% of its MPs, i.e.: 48 out of the current 316 MPs, are needed to trigger a confidence of leadership vote. It is undeniable that May has been losing support both in the party and amongst the general public. However, we doubt if she would be replaced in the medium-term. First, it is highly uncertain that who would succeed May after she quits. There lacks charismatic political leaders within Tories. The latest poll shows that Boris Johnson, Jacob Rees-Mogg and David Davis are the top 3 potential candidates. However, we believe the majority of MPs do not prefer someone that are considered 'radical' or 'extreme' which might further delay the Brexit progress. Second, it is a real concern that May's resignation, which could eventually lead a snap election and a Labor government. According to Yougov's survey on October 4-5, 42% of Britons would vote for Labors if there were are general election held tomorrow, compared with 40% for Tories. Indeed, support for Labours has been above that for Tories since the snap election in June. Yet, May still makes a better PM than Jeremy Corbyn (36%:33%), as suggested in the latest poll. We do not think Tories would take the risk to pave the way for another snap election.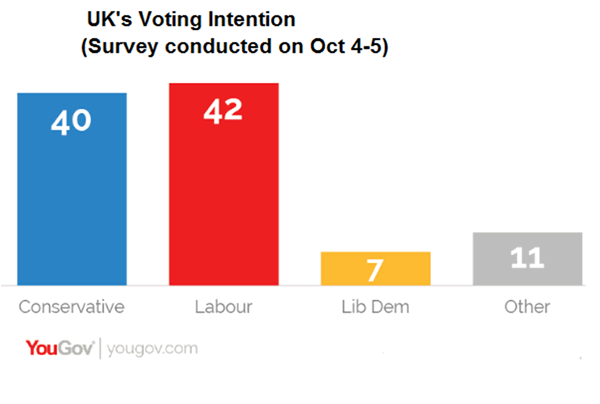 Lackluster Brexit Talks
Another issue weighing on sterling is the lack of progress in Brexit negotiation. Last week, the EU parliament voted 557-92 to decided that Brexit talks have not made 'sufficient progress' on Phase I which includes negotiations on citizens rights, the financial settlement and Ireland. As such, the parties would be unable to move on to Phase II, which involves the most controversial negotiations of trade and transitional agreement. The next round (Phase I) of Brexit talks should start this week, while the European Council summit will take place on October 19-20, when member states will vote to decide if 'sufficient progress' has been made in Phase I negotiations.
BOE
The market has priced in a 69% chance of a BOE rate hike in November as the central bank warned in September that the market had underestimated the rate hike schedule and as UK's CPI jumped to +2.9% in August. Even if BOE announces a +25 bps rate hike next month, we still would not consider it as the beginning of the tightening cycle. It is unwarranted by the macroeconomic developments in the country. A long pause is expected after the first rate hike in over a decade.
UK's services PMI recovered to 53.6 in September, from a 11-month low of 53.2 a month ago. However, new business growth eased to a 13-month low. Construction PMI showed a slump to 48.1 in September. This is the first time for construction activities to fall to contraction since August 2016. Manufacturing PMI slipped -0.8 point to 55.9 last month. According to survey agency IHS Markit, 'the three PMI surveys put the economy on course for another subdued 0.3% expansion in the third quarter, but the fourth quarter could see even slower growth'.