Japan PMI Manufacturing was finalized at 45.2 in July, up form June's 40.1. That's the highest reading since February. while it still stayed below neutral 50, it's already notably better than the 11-year low of 38.4 reached in April. Markit also said down turn in output eases sharply in comparison in Q2. New orders decline to the smallest extent in five months. Business expectations also continue to rebound.
Tim Moore, Director at IHS Markit, said: "Japan's manufacturing sector remained severely impacted by the COVID-19 pandemic and subsequent downturn in worldwide economic conditions. However, the headline PMI recovered some of the ground lost in the second quarter, helped by the smallest declines in output and new orders for five months during July.
"Production of consumer goods was close to stabilisation in July, despite a headwind from weaker orders from abroad… Capital goods was the worst-performing segment for export sales, highlighting that reduced global investment spending and constrained trade flows are holding back the Japanese manufacturing sector."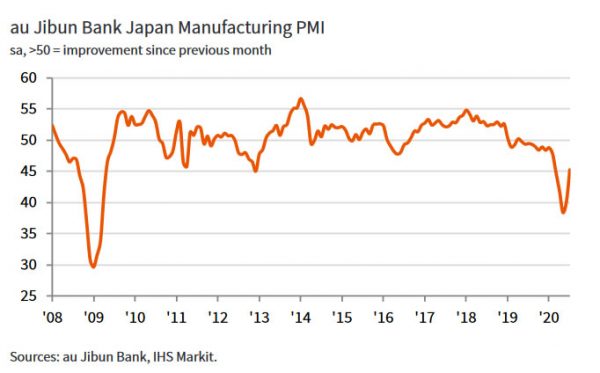 Also released, Q1 GDP contraction was finalized at -0.6% qoq, unchanged from prior estimate. Annualized, GDP contracted -2.2%. Looking at some details, capital expenditure rose 1.7% qoq. External demand dropped -0.2% qoq. Private consumption dropped -0.8% qoq. GDP price index rose 0.9% yoy.