The Australian dollar which closed on a bearish note yesterday was seen extending the declines earlier today, following the release of the monthly retail sales report. Data from the Australian Bureau of Statistics showed that retail sales by turnover fell 0.1% on a seasonally adjusted basis in March 2017, marking the second month of declines. However, compared to a year ago, retail sales turnover rose 2.5%.
Later in the day, the Annual budget will be released by the Turnbull administration for the 2017 – 2018 fiscal year. Although the Australian dollar isn't expected to react much, the budget release will, however, garner attention from ratings agencies.
Besides the budget release, other economic releases for the day include German industrial production and Canada's building permits.
EURUSD intra-day analysis
EURUSD (1.0930): EURUSD fell sharply off the session highs near 1.1000 as expected and mentioned in yesterday's commentary. The declines came about in a widely expected result from the French elections that were held on Sunday.
After closing at the day's lows near 1.0923, EURUSD could be seen attempting to retrace some of the declines, but watch for resistance that could develop near 1.0950. Failure to break out above 1.0950 will signal further declines down to 1.0863 – 1.0854.
The 4-hour Stochastics, however, is in the process of printing a hidden bullish divergence with a lower low against the current higher low in price. This could mean that EURUSD could be attempting to break out higher, which will be validated above 1.0950.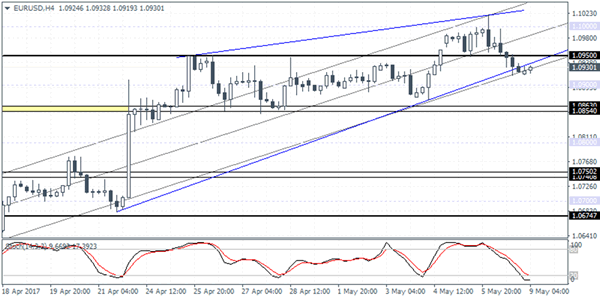 GBPUSD intra-day analysis
GBPUSD (1.2953): The British pound was bearish yesterday, but price action was seen to be trading rather tight. The very gradual rally in prices following the bullish flag pattern is signaling that perhaps price action could be looking at a decline in the near term.
This view is somewhat validated by the still evolving rising wedge pattern near the top at 1.2965 – 1.2988. A reversal at this level will very likely confirm the downside in GBPUSD, although the immediate support at 1.2900 will have to be breached to confirm the downside towards 1.2600.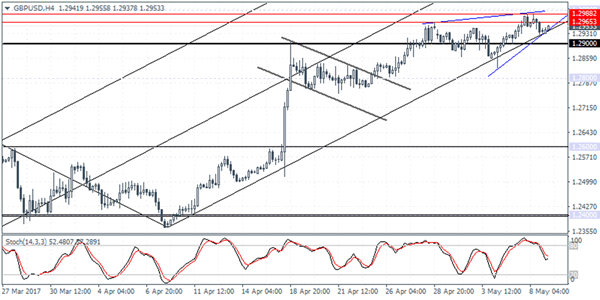 XAUUSD intra-day analysis
XAUUSD (1227.87): Gold prices continued to linger near the 2-month lows at 1220.00 levels. Price action formed an outside bar yesterday keeping the bias fairly neutral at this point, but with a risk of a correction towards 1250.00 handle.
The short-term resistance at 1234.00 remains in sight with further gains seen coming only on a breakout above this level, which will push gold towards the 1250.00 handle where resistance can be established. To the downside, the breakout from the outside bar will signal a move towards 1200.00. With lack of any clear short-term fundamentals, gold prices are likely to remain muted.