The latest monthly manufacturing activity report released by the New York Fed yesterday showed that the Empire State Manufacturing index slipped into negative territory, posting a reading of -1.0. The data missed expectations of 7.2 and indicated a third consecutive month of decline after data rose to a two-year high at 18.7 in February.
Both new orders and shipments fell while the labor market indicators pointed to only a modest increase during the month of May. The US dollar index fell through the day which saw the EURUSD maintain the bullish momentum from last Friday. The ICE futures, US dollar index fell 0.3% to close at 98.91.
Looking ahead, the economic calendar today will see the inflation figures from France and Italy while the UK will be releasing the monthly inflation figures which suggest that consumer prices might have accelerated at a pace of 2.6% in April. The inflation data will be followed by flash GDP numbers from the eurozone.
From the US building, permits and industrial production numbers will keep the markets busy later in the afternoon.
EURUSD intraday analysis
EURUSD (1.0986): EURUSD maintained its bullish gains yesterday with theprice now within reach of testing the 1.1000 resistance level. However, the current gains are still seen as a retracement unless we see a strong breakout above 1.1000 region. This will potentially set the stage for further gains to the upside. However, in the event of a reversal near 1.1000 resistance level, we could expect EURUSD to slip back towards the support that was established at 1.0863 – 1.0854 level. A break down below this region will then confirm a move towards 1.0750 – 1.0740 region.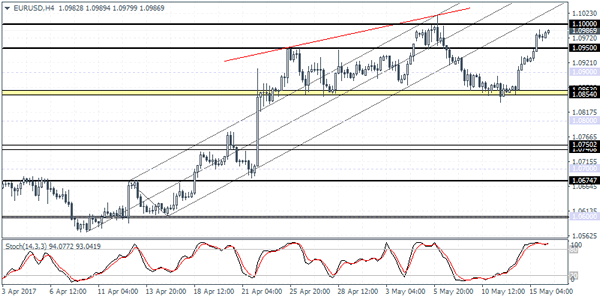 USDJPY intraday analysis
USDJPY (113.51): The USDJPY managed to maintain some bullish momentum yesterday, but the daily chart shows a hidden bearish divergence that has formed. This indicates that USDJPY could be looking to slide towards 112.50 in the near term where support could be established ahead of a renewed bullish momentum. On the 4-hour chart, resistance is seen holding up at 114.00 – 113.78 region which was tested once again yesterday. Thiscould possibly signal a move towards the support level at 112.50.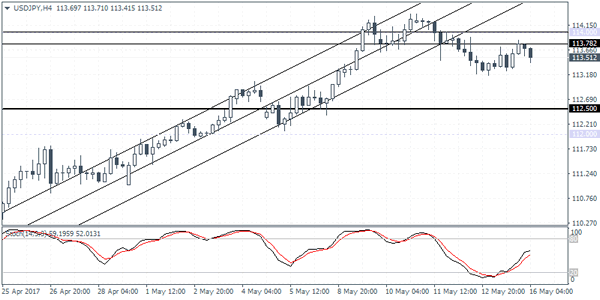 XAUUSD intraday analysis
XAUUSD (1233.44): Gold prices attempted to push higher yesterday, but price managed to rise to a 7-day high at 1237.26 before pushing back lower. The failure to post any pullback towards 1221.47 regionis, however, indicative that the rally cannot be sustained further unless gold prices break out higher above 1235.00 and establish support at one of the higher levels. Resistance is seen coming in at 1250.00 which remains the upside target, while to the downside, the declines could be limited towards 1221.47 – 1221.00 region.