Yesterday, the United Kingdom experienced an unprecedented moment. Theresa May, the British Prime Minister, suffered a triple defeat. This opened the door for the parliament to prepare for plan B, when her Brexit deal gets voted down in the parliament on December 11, 2018. The prime minister defended her Brexit deal position, the details of which will be published today. May said that it is the best "compromise" Britain can get, but the Parliament believes otherwise. We are now looking at the possibilities of No Brexit or pursue a softer withdrawal which could include staying in the bloc's single market. So, do not be surprised if the debate about another referendum starts to pick up more momentum.
One market trend that worked well since the Brexit referendum is that when the Sterling drops, the UK equity market rallies. This trend has been in play since July 2016. However, this correlation is fading now. What I mean by that is that with the ongoing weakness in the British Pound, we are not seeing any bullish momentum for the FTSE 100 index. The FTSE 100 index has lost its value by nearly -9.77% year-to-date and the Sterling-Dollar is down by 5.71%.
The below chart explains the correlation between the pound and the FTSE index. The lower panel of the chart shows this relationship is diminishing to an extent that we are close enough to say that both Sterling and the FTSE are positively correlated. What this means is that when the pound drops, the FTSE 100 index also falls.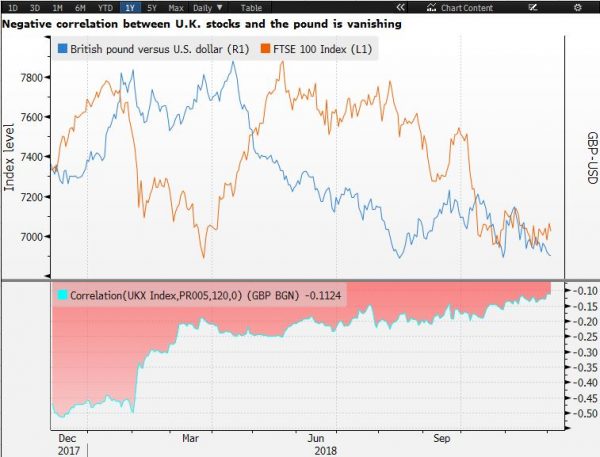 Looking at the daily chart of the Sterling-Dollar pair, it becomes clear the British Pound is in death spiral mode, thanks to Brexit chaos. The force of gravity is pulling it down and the price has broken the critical level of $1.27 against the dollar, currently trading at $1.269 with the doors wide open for the price to touch $1.2492 again.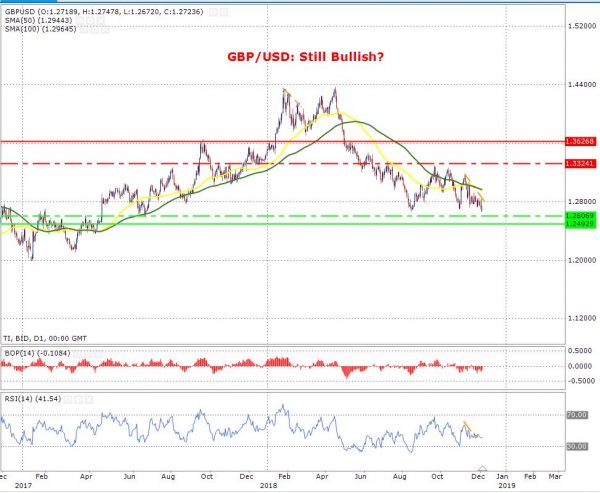 The higher odds of no Brexit deal are increasing the uncertainty among traders. If the UK comes out of the EU with no deal, it would be no short of a catastrophe. The Bank of England and the Treasury have already raised several warnings about this. Just to put things in perspective, the housing sector could see the prices fall as much as 30% and the pound could fall to $1.22 against the dollar.
The daily time chart of the FTSE100 shows that the price is in a downtrend. However, the weakness in sterling has helped the index (to some extent) from falling like a rock. The index is in consolidation mode, but in the coming day, the odds are higher that we may see a downward move, which could push the index towards its major support of 6,678.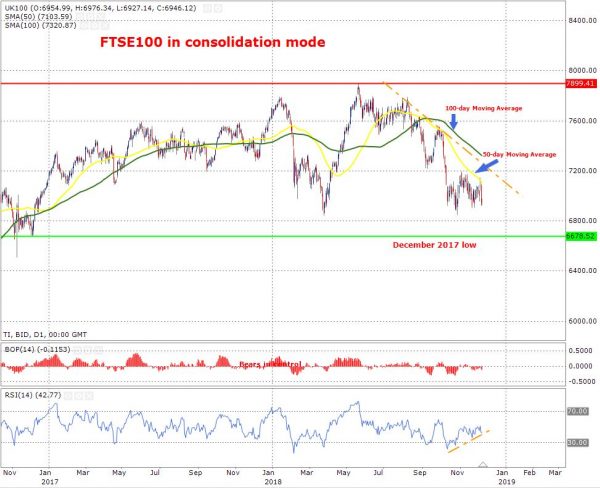 All in all, the next week is likely to represent opportunities for those who like higher market volatility and for investors who look for value.