The greenback continued to weaken against some of the major currencies yesterday amid a quiet trading day. The New Zealand dollar rose as much as 1% on the day, rising to a three-week high while the price action was a lot more subdued against the yen.
Gold prices were seen rallying back to test the previous highs at 1261, while crude oil prices managed to maintain the strong momentum, with prices supported above $50 handle.
Looking ahead, the economic data today includes flash manufacturing and services PMI from the eurozone and the US, due to be released by Markit. The BoE's inflation report hearings are also due today, while in the US trading session a number of Fed members are due to speak.
EURUSD intraday analysis
EURUSD (1.1249): The euro got a boost unexpectedly yesterday as the German chancellor, Angela Merkel said that the "euro was too weak" blaming the ECB's monetary policies.
The euro jumped higher on the day as a result and comfortably closed above the $1.1200 handle yesterday. Immediate support is seen at 1.1200 with further upside likely to see price consolidate near the 1.1250 handle. However, a break down below 1.1200 will trigger the next support level at 1.1100 region.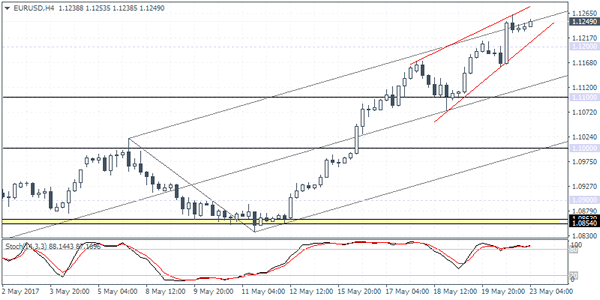 GBPUSD intraday analysis
GBPUSD (1.2994): The British pound close in a doji yesterday near 1.3000 handle. A bearish close today is required for price action to push lower.
There is a strong chance that the GBPUSD will signal a correction towards the long pending test of support at 1.2600. On the 4-hour chart, watch for the possible rising wedge pattern that is being formed. A breakout to the downside will signal an initial decline towards 1.2800 support. The Bank of England's inflation report hearings will be held today where Gov. Carney's comments could bring some volatility to the British pound.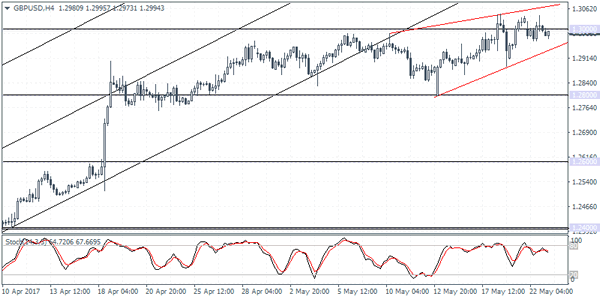 XAUUSD intraday analysis
XAUUSD (1261.96): Gold prices have rallied back to test the resistance level that was formed at 1263.00 that was only tested last week.
However, the 4-hour Stochastics is currently showing a lower high at this level which could indicate a downside move. Price action remains flat within 1263.00 and 1250.00 levels. On the daily chart, there is also a potential head and shoulders pattern that is likely to be still emerging with the current rally posting the right shoulder. A reversal at 1263 with a decline to 1250.00 is needed to confirm the downside in price.