Stocks are poised to open modestly lower, while the dollar is barely firmer against its major trading partners as trade talks continue and ahead of the release of the Fed's minutes.  As we approach the tail end of earnings season, financial markets have firmly priced in a soft first quarter, that could go negative and reduced the earnings growth for the year to around 5%.
CNY- Trade talks to pickup by end of week
Fed- Minutes to provide clarity on how dovish the Fed has become
GOLD – Higher on inversion concerns
OIL – Stuck near 3-month highs
CNY
Every day that passes news aspects of the trade deal are discussed, with the consensus remaining that a deal will get done and that global growth concerns should get a reprieve.  Negotiations are toughening and while the US is asking for everything including the kitchen sink, constructive progress appears to be the direction both sides are set on.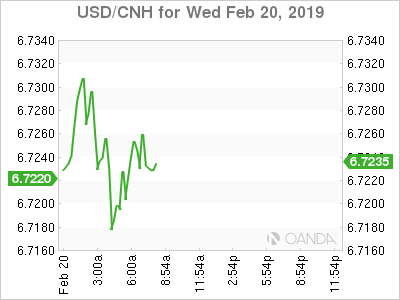 Fed
Today's Minutes may provide more clarity on how dovish the Fed has become.  Investors will eagerly await further clarity on what will be the Fed's next move, the Fed funds futures markets have recently switched from pricing in a rate hike to a slight preference the next move will be a rate cut.
Another key policy tool is Quantitative Tightening (QT) which is taking excess balances off the Fed's the balance sheet, while banks are reducing excess reserves at similar pace.  Currently the effects of QT to the credit markets appear limited, but if the Fed does not provide clearer guidance on when it will end, we could this become a strain on the economy.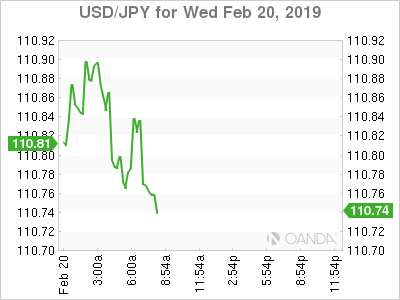 Gold
Gold hit a 10-month high ahead of building concerns that the Fed's meeting minutes could signal interest rate increases should not be ruled out for the rest of the year, signalling that the bond market could see the difference between two-year and 10-year Treasury yields narrow.  Recession concerns are likely to grow if we see expectations grow that the US economy is on sound footing and that the Fed could resume rate hikes.  Global growth concerns may ease on the announcement of a trade deal with the US and China, but that may be the straw that break's the US economy's back, giving the Fed the go-ahead to raise rates and triggering the yield curve inversion.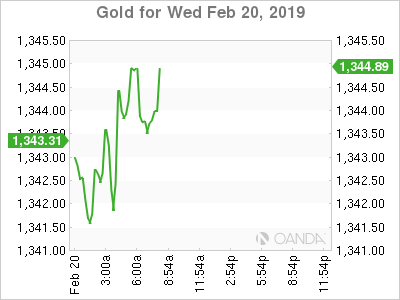 Oil
Crude prices remain near the 3-month highs, relatively stuck in no-man's land as energy traders await further developments in the US-China trade war and to see if the OPEC led production cuts will continue to outweigh rising production from the US.  The standoff in Venezuela is also showing no signs of easing as the Venezuela military remains loyal to President Maduro, ignoring President Trump's request to their abandon support.