High-level trade talks resume, disagreement on enforcement the big hurdle.
Metal markets still underpin a recovery, otherwise little macro news this week.
Xi Jinping visits Europe amid concern over Italy signing memorandum on the Belt and Road Initiative.
High-level trade talks resuming
We are still waiting for the date of the meeting between Xi Jinping and Donald Trump, at which they are set to sign a trade deal. High-level trade talks will resume in Beijing next week with the aim of closing a deal soon, see SCMP 21 March. US Trade Representative and Treasury Stephen Mnuchin is set to lead US talks with China's top negotiator Vice-Premier Liu He and his team and the following week the Chinese high-level trade team is planned to head for Washington. According to some sources, the hope is to pave the way for a 'signing summit' between Xi and Trump in late April, see AP News 19 March.
Trump generated more uncertainty about the talks this week, saying "We're not talking about removing them [tariffs], we're talking about leaving them for a substantial period of time, because we have to make sure that if we do the deal with China that China lives by the deal."
A report by the US Chamber of Commerce and the Rhodium Group put a price tag for the trade war on the US at USD1trn (assuming tariff rates are not removed), see NYT 17 March. The report argued that tariffs are eroding the competitiveness of the US IT sector, one of the sectors the Trump administration aims to protect from unfair competition. The US semiconductor industry has pushed back on becoming part of a deal with China committing to buying a large amount of US chips. They fear a quota system instead of a market-driven system could backfire in the longer run and force them to establish production in China due to the high production costs in the US, see WSJ 18 March.
Comment: We still see a very high likelihood that a deal will be closed within the next three months , despite the rising hurdles at the end of the trade talks. Trump needs a deal to set the stage for his election campaign, where he will be able to present significant gifts to key voters in the agricultural heartland as well as strong support to stock markets and the economy. In contrast, a failure to make a deal would give him the opposite: angry farmers, faltering stock markets and uncertainty over the economic outlook. We find it very unlikely, though, that China would make a deal without Trump lifting tariffs on a significant part of the affected goods. Hence, this is likely to be one of the key sticking points at the end of the talks. We would not put too much weight on Trump's pledges about tariffs being maintained. He has changed his mind many times before when he felt he needed that in order to achieve what he was after. In this case, a deal with China. Lighthizer and other hawks may very well end up frustrated but eventually Trump will make his own decision.
Signs of recovery continue
There has been little news on the economic front this week, but one of our favourite cyclical indicators, metal price inflation, continues to underpin a picture of recovery (see chart on front page). Chinese house price gains for February increased to 11.1% from 10.8% in January according to Bloomberg's 70-city index. Chinese A-share stocks rallied back a bit this week and are up more than 25% this year.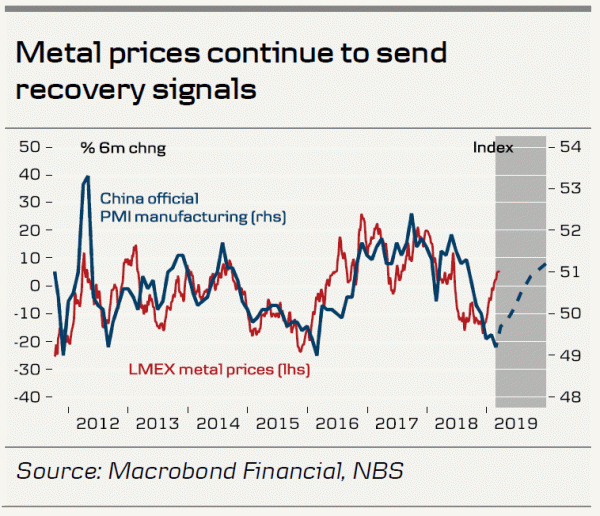 Some Chinese business owners have said that the VAT tax cuts will have little effect on activity, see SCMP 20 March. Many companies are experiencing rising costs due to stronger enforcement of pollution regulation and collection of social security contributions. It has become harder to circumvent these costs, making it more expensive to run a business.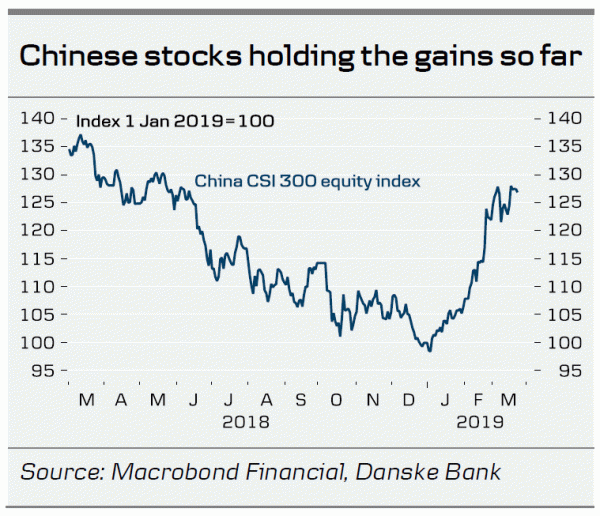 Comment: Metal markets have sustained a positive signal for some time now. Although the indicator is noisy, we rarely see a move for this long without it showing up in the data. We continue to look for a moderate recovery in China this year, with Q1 being the bottom. We see a trade deal and stimulus as the main drivers. The story about companies seeing little effect from the VAT tax cuts reflects the tougher environment that many SMEs have faced in recent years, with tighter credit availability due to the financial tightening, higher costs due to stronger enforcement of rules and recently, negative effects from the trade war. This is one reason why we look for only a moderate recovery in China. Nevertheless, stimulus will support housing, infrastructure and private consumption.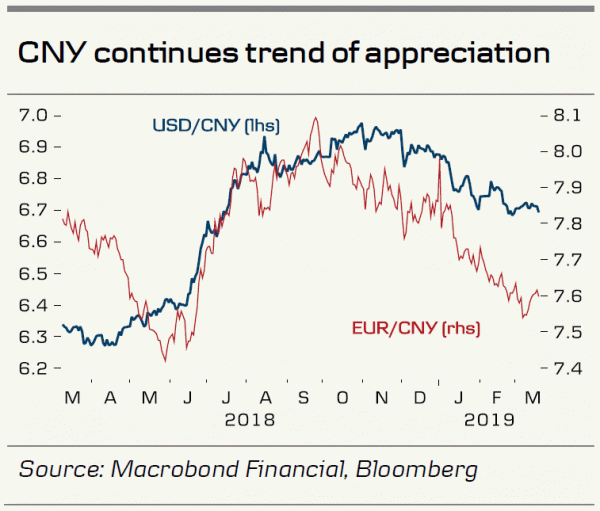 Xi visiting Europe, Italy joins the BRI as the first G7 country
A lot of news has hit the wires on the EU and China this week. Xi Jinping arrived in Europe on Thursday, where he will visit Italy and France. Among other things, he will be signing a memorandum of understanding with Italy on the Belt and Road Initiative (BRI), see BBC 21 March and Reuters 20 March. Italy is the first G7 country to sign such an agreement with China and it has fuelled concern in other EU countries and strong warnings from the US, which calls the BRI 'debt trap diplomacy' and a 'vanity project'. Italy has sought to reassure the US and EU over China deals, with Italian Prime Minister Giuseppe Conte saying it will not "remotely put into doubt our euro-Atlantica alliance" and adding that it is "fully in line with the strategy of the EU".
EU leaders weighed a more defensive stance towards China at the EU Summit on Thursday. It follows the recent EU Commission strategy paper on China, in which it called China a 'systemic rival', see Reuters 21 March. The Commission has also suggested to revive a proposal that could block Chinese access to public tenders if there is discrimination against EU companies in China's procurement market, see Reuters 20 March.
Comment: The EU aims for a tougher stance on China but is struggling to find unity within. China has tried to ease EU concerns and has stepped up efforts to close a bilateral investment treaty (BIT) with the EU that would open up investments in more areas for European companies, see FT 7 March.
Other China news of the week
Apple faces more pressure in China as consumers choose more Chinese brands when upgrading their smart phones, see Reuters 22 March.
Chinese tech giant Tencent will cut its reliance on gaming after a profit hit, see Reuters 21 March. Tencent has been hurt by stricter regulation on gaming, the company's main area of earnings (although it is mostly famous for its WeChat app).