Futures on S&P500 exceeded 2900 and is only 1.2% below all-time highs. Meanwhile, we can mention now 3 bullish signs for EURUSD. Oil stuck to $71 as growth momentum was passed.
Stocks
The global market is growing. Futures on S&P500 exceeded 2900 and is only 1.2% lower than the historical highs reached at the end of September last year. Chinese China A50 reached its highs in 14 months and then declined amid profit-taking. Behind the growth of markets are optimistic expectations for the US and China trade deal, the shift of the Brexit date and the improvement in data from China last week.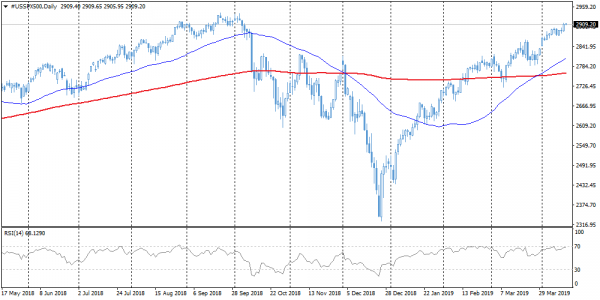 EURUSD
Improving Chinese statistics helped the single currency to get a new portion of support from 1.1200. On the technical analysis side, the single currency enjoys several positive signals that tune it to further growth. Firstly, it is the strengthening of purchases in the process of decline to 1.1200. Secondly, growth above 1.1300 allows speaking about breaking the resistance of the downward trend from the beginning of the year. Thirdly, the pair has been trading above the 50-day moving average since the beginning of the week, which also strengthens purchases from participants closely following medium-term trends.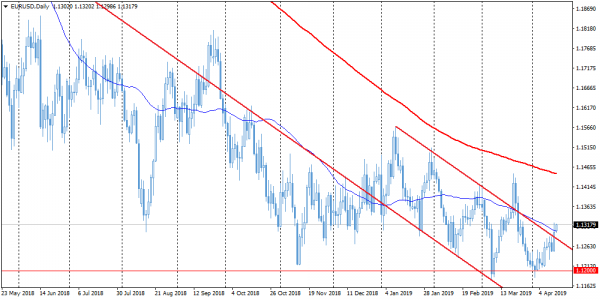 GBPUSD
The British currency cautiously grows after European lawmakers allowed Britain to remain in the EU until the end of October, with the possibility of further delay. This news took away some of the risks against the chaotic Brexit, reducing the pressure on GBP. Growth in stock markets supports buying, raising GBPUSD to 1.3100. As in the case of EURUSD, the pair is trading near the 50-day moving average, consolidating above this level can provide an increase in purchases.
Brent
Oil got stuck around $71 per barrel of Brent, losing growth momentum from the second half of last week. It is alarming that oil does not show growth in conditions of increasing optimism in the markets. In addition, data on the number of working drilling rigs in the United States again showed a decline, which usually acts as a factor of prices support, but not this time. It seems that this growth impulse is exhausted. An important technical impulse indicator – RSI – fell below 70, returning from the overbought area. This is often followed by increased pressure.
Bitcoin
Bitcoin starts the week with a gain of around 2.5% to $5180, receiving support after a short-term decline below $5,000. The market has settled, and now it may be ready for the next sharp movements. Cautious buying after a downturn to $5,000 feed hopes for a return to a positive trend. Among the important levels that can turn into increased volatility, you should pay attention to $5,200 (MA200) and previous highs at $5417.