Unemployment rose unexpectedly and now sits above its 1yr average, an occurrence not seen since 2011. Industrial production also surprised to the downside by contracting by 3.3%. EURJPY tests support yet look ready to break higher over the coming week/s.
The employment sector has been one of the firmer parts of the economy, so today's rise of unemployment to 3.1% from 2.8% was rather unexpected. In absolute terms, a 0.3-point rise is its largest monthly increase since August 2013 and it now sits above its 12-month average. This is the first-time unemployment has risen above the 1yr average since December 2008, so if history is to repeat itself, perhaps this marks a significant turning point in the economy. Before we get ahead of ourselves e wold prefer to see another month or two above it, but it remains something of importance to monitor going forward.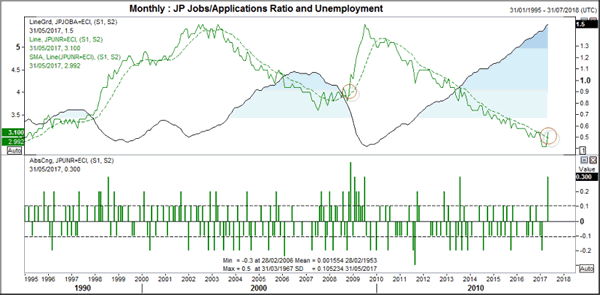 Industrial production also threw a curve ball by contracting -3.3% MoM, its largest decrease since May 2011. This will weigh on GDP and raise concerns for the BoJ behind closed doors. We say that because we doubt they'll revise their rosy outlook for the economy until it is forced upon them.
There is not a huge amount to say about inflation other than it is ticking along at very low rates. There is little hope if this recovering whilst wage growth and consumer spending remain low. The larger issue arises if it begins to roll over once more.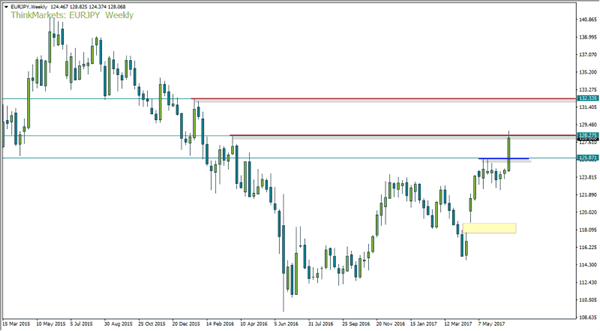 Price action on EURJPY appears icreasingly bullish and now looks to extend gains towards the 132.34 highs. The gap higher (yellow box) marks the first round of the French elctions and is deemend to be a breakaway gap. This tends to mark the beginnings of a trend, alough typically we would see them following a bottom or top pattern. In this case it marked the end of a correction. At time of writing the weekly candle has hit resistance at 128.27. It will be pivotal level going forward and if sentiment allows, may provid support next week if Monday provides a gap higher above it.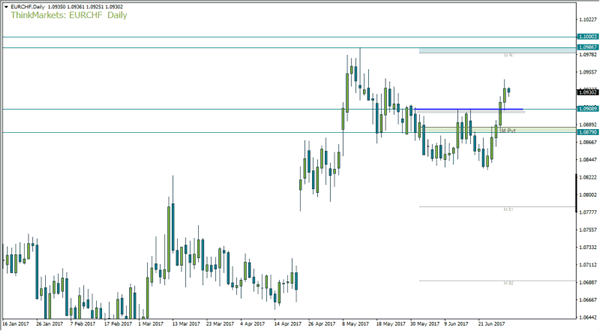 If you were to pull up a chart of CHFJPY, you'd see a very similar setup. However, to help decide which of the two we'd prefer to consider for a long opportunity, we can look at EURCHF. The break of 1.0909 two sessions ago has already had this key level respected as support, which allows EURCHF to close higher for a 5th consecutive session. Although the pattern is reminiscent of a double bottom, we would need to see the recent trough higher than the first for tit to count. EURCHF appears ready to move up to 1.098 over the coming week/s, so we could either trade long EURCHF or EURJPY. As EURCHF appears bullish, we opt to choose EURJPUY over CHFJPY for long positions.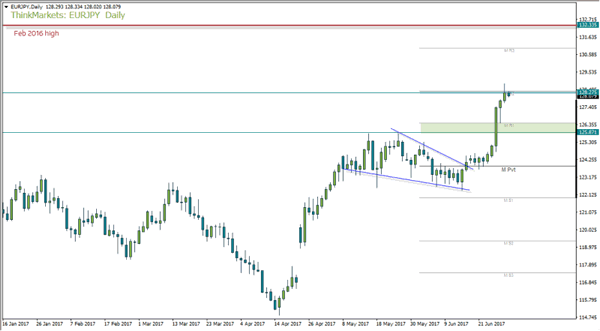 Back to EURJPY, it is debatable if you would want to initiate a long position to hold over the weekend. It is quite common for traders to hedge positions with Yen over the weekend, which adds potential for Yen to strengthen near the end of the week. However, there may be an opportunity to trade intraday bullish or bearish setups, depending on which side if 128.27 we find ourselves. As this also coincides with MR2 then we may find a correction occurs first, before the trend continues. As this is the last trading day of the month, the monthly pivots will be recalculated on Monday. But our next target remains 132.33 and we will monitor for setups next week.