When?
As Asia closes, we switch our attention to scheduled risk up ahead in EUR PMIs especially for our European clients. Data will be dripped into the market starting with French PMIs (7.15pm AEDT / 8.15am LT) then German PMIs (7.30pm AEDT / 8.30am LT) and followed finally by Euro area PMIs (8pm AEDT / 9pm LT).
EUR Volatility has been anaemic
EURUSD 30d realised volatility has been extraordinarily bogged down in November, well below historical averages and that of its Sterling neighbour. This is likely attributed to ECB musings very much being on the backburner following Draghi's handover, and other macro themes taking precedence in driving broad FX i.e. US-China trade talks. We suspect a slight uptick in EUR volatility off the back of PMIs, especially in a surprise scenario, but flag that EUR overnight implied vols have not materially edged higher either.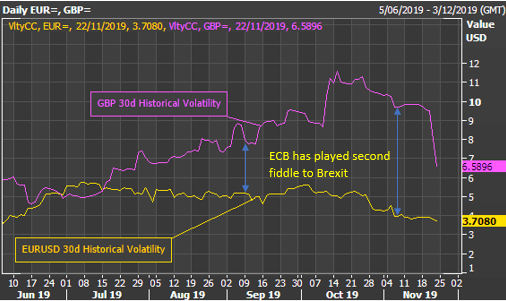 What's expected?
Reuters' polls expect a slight improvement across the board but stop short of suggesting any significant rebound in November. The main focus again for markets, similar to previous months, will be on the German manufacturing malaise story and whether the data highlights some stabilisation in manufacturing confidence amid the temporary reprieve of geopolitical risks we saw in October. German mfg is forecast to print 42.9 vs prior month's 42, while wider Euro mfg is expected to come in at 46.4 against October's slightly lower 46. Looking at the table below, we see strong correlation across countries, therefore, how France prints initially is likely a sign of German and Euro PMI strength.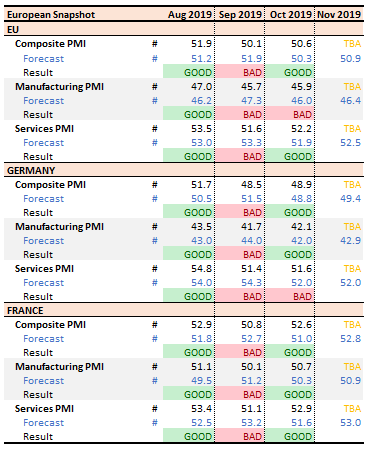 EUR Reaction
EUR overnight implied volatility suggests markets are pricing in a 40bps one standard deviation move. Our base case is for EURUSD price action to stay within the range of Nov. highs (1.1175) and lows (1.0998) on a largely-around-the-mark German mfg PMI release.
Outside of this, a positive surprise emboldens the narrative that the European manufacturing malaise is bottoming and helps EURUSD and German 10y yields push higher. While a negative surprise likely sees EURUSD test the 1.1 handle and German 10y yields fall.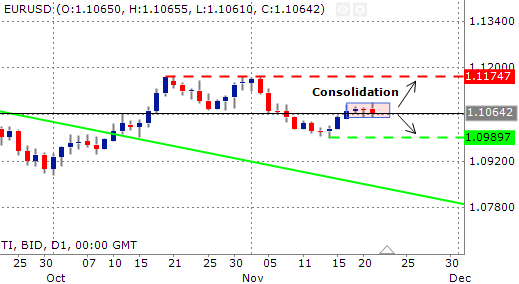 And don't forget about Lagarde
ECB President Lagarde has her first major speech starting at 8am LT Friday. We don't believe she'll rock the boat too much, and will instead focus on stressing that the ECB are happy with the accommodative nature of policy as it stands but equally ready to act should geopolitical risks and the undesirable effects of policy heighten. Market pricing for the ECB's December meeting shows close-to-zero expectations for an ECB hike. We think there's quite a big question mark over what she discusses as Lagarde is also yet to divulge her views on monetary policy. Either way, there appears scope for an uptick in EURUSD volatility.