Rates: ECB Villeroy hints at additional easing as the growth/inflation outlook weakens
German Bunds flatlined yesterday in absence of US/UK investors. Asian stock markets build on yesterday's bullish sentiment on European bourses, pushing bonds lower this morning. The end-of-month US refinancing operation could cause underperformance of US Treasuries. ECB Villeroy hinted at additional easing in the near term.
Currencies: EUR/USD holding tight range ahead of EC proposal
EUR/USD overcame initial weakness and soon returned to the 1.09 handle at the start of the week. Today, US consumer confidence and the debate on the EU rescue package might guide EUR/USD trading. A constructive global sentiment helps to keep EUR/USD north of 1.09.
The Sunrise Headlines
US financial markets were closed yesterday in observance of Memorial Day. Asian stocks are in a good mood this morning with Japan (+2.5%) outperforming peers. Hong Kong (+2%) erases part of Friday's sell-off on Chinese reassurances.
China's commissioner of the foreign affairs ministry tried to reassure Hong Kong that it would keep its high level of autonomy even if the contested national security laws will take effect while condemning the new mass protests.
French president Macron will announce measures to support the country's car industry today. They are likely to include incentives for purchasing cleaner cars and are part of a trio of stimulus packages (tourism, car and aviation).
ECB's Villeroy signalled the central bank is likely to step up its emergency bond buying programme. He wants to see limits on the PEPP loosened and suggested abandoning the capital key to determine each country's purchase amounts.
PM Johnson said all non-essential retail outlets are expected to reopen from June 15 provided the government has control over the spread of the virus. Johnson urged the public to go out and spend when curbs are lifted.
The EU is exploring new environmental (plastic, carbon) and corporate (digital companies) levies to fund €500 bn in debt as part of the recovery plan. Winning consent from all members will be difficult however, diplomats note.
Today's economic calendar contains US Conference Board consumer confidence for May and housing data. ECB's chief economist Lane speeches. Italy, Germany and the US tap the bond market.
Currencies: EUR/USD Holding Tight Range Ahead Of EC Proposal
EUR/USD in tight range ahead of EC proposal
Global (FX) trading mostly developed in thin markets yesterday as key US and UK markets were closed. EUR/USD slipped below 1.09. The move was probably driven by the division within the EU on the structure of the new rescue package after four countries (SE, NL, AU, DK) reiterated their view that any help should only take the form of loans, not grants. Still, EUR/USD soon found a bottom. German IFO confidence was slightly better (less negative) than expected. A continuation of the risk rebound also helped EUR/USD to return to the 1.09 pivot. USD/JPY didn't go anywhere (close 107.71)
This morning, Asian equities continue the risk rebound from yesterday, ignoring political tensions related to China imposing a new security law for Hong Kong. The verbal 'cold war' between US and China continues, but for now there is no real escalation in retaliatory measures. The yuan (USD/CNY 7.1325) rebounded slightly even as the PBOC further weakened the fixing of its currency to the lowest level since 2008. USD/JPY (107.85 area) profits from the risk-on and from the prospect of more fiscal stimulus. EUR/USD again tries to leave the 1.09 level behind.
Today's calendar in Europe is thin. In the US, housing data, business confidence and the Conference Board consumer confidence will be published. With the market focus on the demand side of the post-corona recovery, consumer confidence data might provide interesting info, especially as the CB release is quite exhaustive. Once again, the USD reaction function might be a bit ambiguous, but we assume that positive news to be slightly negative rather than positive for the dollar. Markets will also continue to monitor the debate on the EU rescue package, ahead of the EC intuitive expected tomorrow. EUR/USD trading mostly likely will hold recent tight ranges. A positive global sentiment and maybe some hope on progress at the EU level, might keep the EUR/USD downside protected in a daily perspective.
Yesterday, EUR/GBP held a tight range in the lower half of 0.89 as UK markets were closed. Today, headlines on UK PM's aide breaking the lockdown rules remain in the spotlight. There is also no sign of progress in EU-UK Brexit talks. CBI will publish the its May retail data. The global risk-on context is slightly sterling supportive in a daily perspective, but we expect the EUR/GBP 0.89 area to be solid support.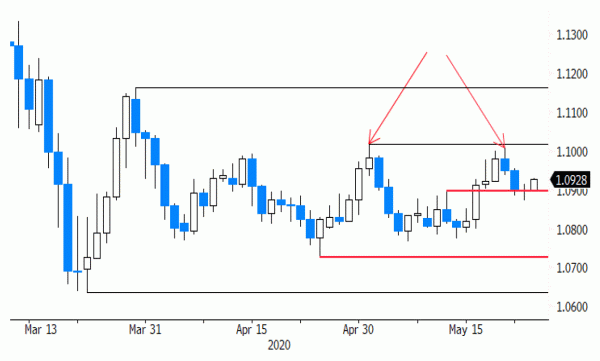 EUR/USD returns north of 1.09. Holding tight range