Rates: EC to propose recovery fund
Core bonds are going nowhere this morning after yesterday's positive risk-driven setback. ECB Schnabel joins Villeroy in shaping expectations for additional stimulus at the June 4 meeting. The European Commission will today launch a €500bn recovery fund proposal, raised via EU issuance and repaid through the EU budget.
Currencies: EUR/USD nears 1.10 barrier as traders await EC proposal
The dollar declined in a risk-on context yesterday. EUR/USD profited from the global positive sentiment, but investors maybe also reduced euro shorts ahead of today's EU proposal. The EC plan will remain subject of debate, but a big part of financing at an EU level might support the single currency. The yuan suffers from political uncertainty on Hong Kong.
The Sunrise Headlines
Wall Street eked out gains up to 2.17% (DJI) though gave up a large part in the final trading hour on fears for US actions against China. Asia trades mixed this morning. Japan (+0.9%) outperforms after more stimulus was announced.
The US is weighing sanctions on Chinese officials over its intentions in Hong Kong. They could include imposing controls on transactions and freezing assets and might be announced later this week, president Trump said.
A budget draft seen by Reuters showed Japan will compile another 117tn yen stimulus package that focuses on medical spending and aid to struggling companies. Japan unveiled a similar-sized spending bill in April.
ECB's Schnabel said the central bank would not adjust its policy in response to the German ruling, adding instead the ECB is ready to react when new data come in (ie at the June 4 meeting) and expand tools accordingly.
The US drug company Merck unveiled plans for both a coronavirus vaccine and treatment but warned that the development might take longer than expected to make it available on a global scale.
In his last appearance before leaving the BoC, governor Poloz said increasing the scale of any of its programmes is possible if needed. If extreme conditions occur, the central bank could even lower the rate (now at 0.25%) below zero.
In today's economic calendar the European Commission unveils its recovery fund proposal. Its president holds a press conference after the summit. The Fed releases its Beige Book. The US taps the bond market. ECB's Lagarde speeches
Currencies: EUR/USD Nears 1.10 Barrier As Traders Await EC Proposal
EUR/USD nears 1.10 as traders wait EC proposal
The market narrative was perfectly supportive for a EUR/USD rebound yesterday and that was exactly what happened. A positive risk sentiment pushed the trade-weighted dollar below the 99 mark, with first support gradually coming within reach. USD weakness was the main driver, but markets also avoided being too much short euro ahead of today's EC proposal for rescue plan. Core EMU yields rose and intra-EMU spreads narrowed, all helping EUR/USD near the 1.10 area, but a real test didn't occur (close 1.0982). The yen this time hardly profited from the risk-on and even closed in red (107.54). This morning, China finalizing a security measure reinforcing its grip on Hong Kong and a possible US reaction dominate market headlines in Asia. Equities are trading mixed, with Chinese and Hong Kong markets underperforming. Japan and Australia outperform. The on-shore yuan weakens sharply (USD/CNY 7.1550) even as the PBOC put the fixing stronger. The offshore CNH is nearing the all-time lows of last year. USD/JPY still struggles (107.50 area). The Aussie dollar is holding strong after yesterday's risk rally (AUD/USD 0.6642 area). Today, the eco calendar in Europe and the US mostly contains second tier releases. The Fed will publish the Beige Book preparing the June 10 policy meeting. Headlines on Hong Kong remain important for intraday global risk sentiment. However, euro traders will keep a close eye at the EC proposal for an EU rescue/recovery package. The proposal will remain source of political debate. Even so, if it contains a substantial amount for global financing at an EU level, it might be a further euro supportive. As always, the devil will be in the political details, but in case of a positive proposal, a retest or even a break of the 1.10/1.1018 resistance is possible, with 1.1163 then the next technical reference. A return below 1.0871 would be a motion of disappointment.
Sterling profited from the global risk-on yesterday and the prospect of a gradual reopen of the UK economy, despite ongoing political noise in the UK government. ERU/GBP closed near the 0.89 big figure. There are no important data or BoE speeches expected today. Sterling had a good risk-on run yesterday, but we expect the EUR/GBP decline to slow from here and stay cautious on further sustained sterling gains.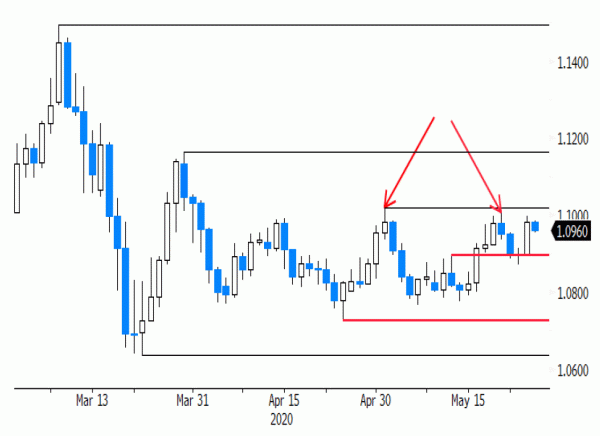 EUR/USD nears 1.10 barrier. Will EC proposal force a break?