Key Points:
Cable retreating towards a key support zone formed by the October low.
RSI Oscillator close to oversold.
Watch for a retracement back towards the long side in the coming week.
The past week has seen a rapid descent for the Cable as sentiment has flowed strongly into the greenback as speculation of an impending FOMC rate hike has continued to mount. Subsequently, we have seen price action drop from around the 1.2600 handle to its current level at 1.2160. However, it remains to be seen how much further the embattled pair will go given that we are now nearing the depths of the October 2016 low.
Fundamentally, the Cable has had a punishing few months with the uncertainty of the Brexit negotiations causing capital flows away from the Pound. In addition, the recent sharp falls in the BRC Retail Sales monitor to -0.4% y/y and the Halifax HPI to 0.1% have complicated assessing the pair's current fundamental direction. However, the near term outlook is not highly negative despite ongoing rhetoric around the impact of an exit from the EU. Inflationary pressures are starting to awaken in the UK and GDP is proving to be relatively robust in light of the ongoing uncertainty. Subsequently, there are plenty of fundamental factors to suggest that the currency pair's current malaise is a temporary decline.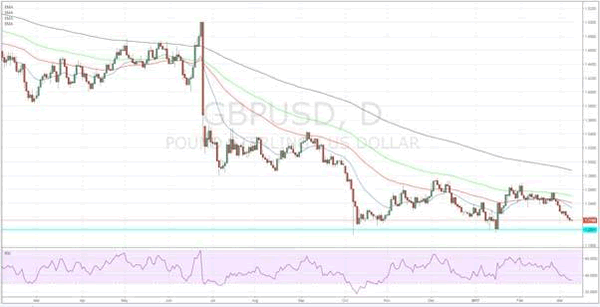 From a technical perspective, the pair's price action has recently been exhibiting strong bearish tendencies as it moves back towards the 1.21 handle. However, a key zone of support is looming at 1.2031 and the RSI Oscillator is nearing oversold levels on the daily timeframe. Subsequently, there are plenty of indicators that we are likely to see a swing back to the long side if price action can remain above the 1.2031 support zone.
It would appear that the majority of selling pressure has largely come from capital flows into the greenback in an attempt to position ahead of the FOMC decision. Subsequently, as we move towards completely pricing in a rate hike decision, there is less reason to see further sharp declines in the Cable's valuation.
Ultimately, the most likely scenario for the pair in the coming week is a continual gentle drift lower until the support zone is reached and then a sharp reversal back towards strong resistance around the 1.2500 handle. At this stage, it's unknown if the Cable can break out of its current range but the presently low valuation is unlikely to hold over the medium term, especially if further certainty over the Brexit is reached.