The New Zealand dollar has soared in Tuesday trade. Currently, NZD/USD is trading at 0.6984, up 0.89% on the day. In the Asian session, NZD/USD crossed above the psychologically significant 0.7000 level, for the first time since June 2018.
Finance Minister request to RBNZ boosts NZD
A letter from New Zealand's finance minister, or more accurately, the response from the RBNZ Governor, triggered huge gains for the New Zealand dollar on Tuesday. Finance Minister Robertson has requested that the RBNZ to take into account the housing market as part of its monetary policy. Robertson asked the central bank to tweak its policy, so as to "avoid unnecessary instability" in housing prices. RBNZ Governor Orr responded that the central bank's "monetary policy actions have been, and will continue to be, effective in supporting the economy through the COVID-19 economic shock."
The markets interpreted this comment as a statement that the RBNZ has shelved any plans of additional easing for the near future, including negative interest rates, a concept which has been floated in recent months. This triggered a sharp response on the currency markets, with NZD/USD climbing as high as 1 percent on Wednesday.
Tuesday's sharp gains by the New Zealand dollar is a continuation of an impressive uptrend, as the currency is up 5.5% in the month of November. The economy has been hit hard by Covid-19, but it appears that economic conditions have since improved. On Monday, Retail Sales for Q3 posted a sharp gain of 28.0%, which easily surpassed the estimate of 20.0%. This points to an impressive rebound from the -14.6% release in the second quarter. Core retail sales, which excludes automobile and gas station sales, also sparkled, with a gain of 24.1%, after a decline of 13.4% beforehand. New Zealand does not release GDP for Q3 until mid-December, but analysts are projecting a double-digit gain, which would mark a strong recovery from the second quarter, when GDP release came in at -12.2%.
NZD/USD Technical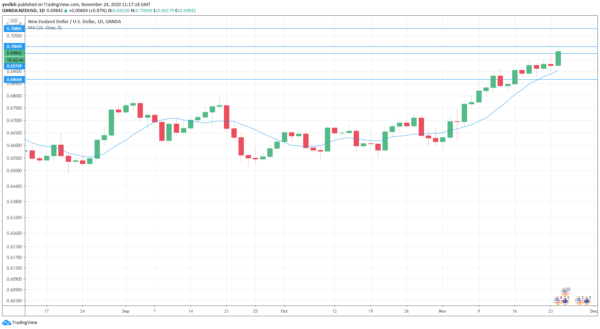 With NZD/USD climbing higher, the pair is fast approaching territory not seen in over a year.
NZD/USD is pressing on 0.7004, a 52-week resistance line. The next resistance line is at 0.7081
There is weak support at 0.6974, followed by support at 0.6867
NZD/USD has put some distance between the pair and the 10-day MA line