The European Central Bank revealed little new about future policy at the end of its two-day policy meeting today, keeping interest rates and the size of its asset purchases unchanged as expected. Although ECB officials had been signalling that policymakers would not be ready to make a decision on scaling back their stimulus program at the September meeting, there were expectations that President Mario Draghi would use today's press conference to lay the groundwork for a possible October announcement.
However, Draghi stuck to familiar language at his press briefing, only saying that the Governing Council have had a "very, very preliminary" discussion on reducing monetary stimulus. He gave his strongest hint yet that the central bank will likely be ready in October to decide on its next move but neither did he commit to such a date.
The biggest surprise from the ECB today was probably the decision not to make any changes to the forward guidance. In fact, the announcement statement was completely unchanged from the previous meeting's, with the Bank even maintaining its bias to increase the size of its bond purchases if necessary. This led some analysts to think that the markets may have misjudged the ECB's readiness to begin tightening policy.
But despite the ECB's unexpected dovishness, the euro shot up by 1% to above $1.20 while Draghi spoke. The euro had been on the up in the hours prior to the ECB's decision and press conference, and jumped to a one-week high of $1.2059 when Draghi didn't appear to show particular alarm over the surging currency. However, as the press conference progressed and Draghi gave clearer indications that the euro strength would be an important factor in setting policy, the single currency fell back to around just below the $1.20 level.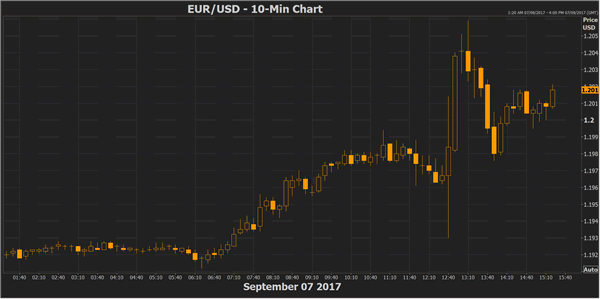 Draghi said that the appreciation in the exchange rate has tightened financial conditions in the Eurozone and would need to be monitored, adding that the strength of the euro would influence policy decisions if it had a downward effect on inflation. "The recent volatility in the exchange rate represents a source of uncertainty which requires monitoring with regard to its possible implications for the medium-term outlook for price stability" Draghi said.
The euro's sharp gains in recent months have already forced the ECB to slightly lower its inflation forecasts for 2018 and 2019 by 0.1 percentage points to 1.2% and 1.5% respectively. However, they were kept unrevised at 1.5% for 2017. Growth forecasts were largely unchanged except for 2017, which was revised up from 1.9% to 2.2%. Draghi described growth as robust and broad based, but said patience was needed with regards to inflation.
The ECB only expects inflation to hit its target of close but below 2% by 2020, suggesting that the road to unwinding quantitative easing will be very slow and long.