Bank of England Review – 50bp Hike Today and a Final 25bp Hike in Store for March
In line with our expectation, the BoE today hiked policy rates by 50bp, bringing the Bank Rate to 4.00%.
We expect the increasingly weak growth outlook to support a near-term ending to the hiking cycle.
We maintain our call for a final 25bp hike in March with risks to our call skewed towards additional hikes in 2023 if wage growth shows increasing persistence.
In line with our expectation, the Bank of England (BoE) hiked the Bank (policy) Rate by 50bp to 4.00% with 7 members voting for a 50bp hike and two members voting for keeping the Bank Rate unchanged.
Overall, the message was slightly to the dovish side with the BoE increasingly shifting to a more data dependent approach. Most importantly, the shift in characterising future course in action by removing the phrase "further forceful monetary policy response" from the December guidance to "further tightening in monetary policy would be required". As expected, the BoE revised its growth forecast upwards, now projecting a much shorter and shallower technical recession in 2023. Consequently, BoE now expects the rise in unemployment to prove smaller than previously expected. Likewise, their inflation projections were revised lower reaching 3% in Q1 2024 compared to 4% in the November projections. Overall, we think the statement and press conference confirm our call of a final hike in March of 25bp. The key concern for the BoE remains developments in wage data as well as service inflation, which leaves a potential for further hikes down the road.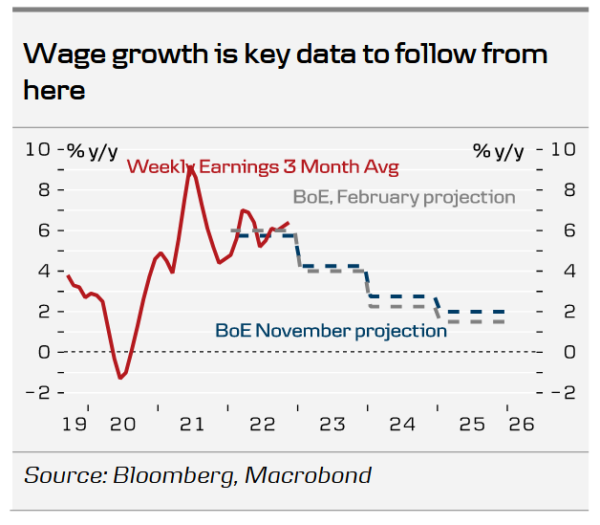 We were left with little guidance in terms of monetary policy and potential cuts later in the year, with Bailey refraining from pushing back on market pricing (40bps of cuts during H2). Markets reacted by pushing expectations of policy rate in December lower to 3.93% compared to 4.13% yesterday. We do not expect any cuts to materialize before 2024.
Rates. Gilts yields on all horizons ticked lower during the day, spiked on the announcement and then started trending lower again with the 10Y trading around 30bp lower compared to yesterday. Like us, investors seem to interpret today's meeting as dovish as the peak rate was pushed slightly lower to 4.3% in June/August from 4.4% in the beginning of the week.
FX. EUR/GBP initially moved lower upon announcement but quickly retraced as expected with the more dovish nature of the statement. Followed by a less than expected hawkish ECB EUR/GBP is back close to opening levels. We continue see a case for the EUR/GBP cross to move modestly lower in the coming year as a global growth slowdown and the relative appeal of UK assets to investors are a positive for GBP relative to EUR.
Our call. We continue to expect the BoE to deliver a final 25bp hike in March. Our expectations fall below current market pricing (currently 34bps until June 2023) as we expect the rest of the BoE committee to increasingly turn less hawkish amid a weakening growth backdrop and easing labour market conditions. Markets is pricing in 40bp of cuts during H2, while we keep our forecast of the first cut to be delivered in the beginning of 2024.