Higher energy prices and the volatile trade services component drove the PPI up 0.4 percent in September. Core goods and services prices rose more modestly, but are within the realm of the Fed's inflation target.
Energy and Trade Services Lead September Gain
Producer prices climbed 0.4 percent in September on another sizable lift in the cost of energy goods (up 3.4 percent). Food prices were flat, while core goods rose 0.3 percent.
The 0.4 percent rise in services last month was largely traced to a 0.8 percent rise in the trade component, which is measured in margins. Transportation services, which can be susceptible to fluctuations in energy costs, rose 1.0 percent.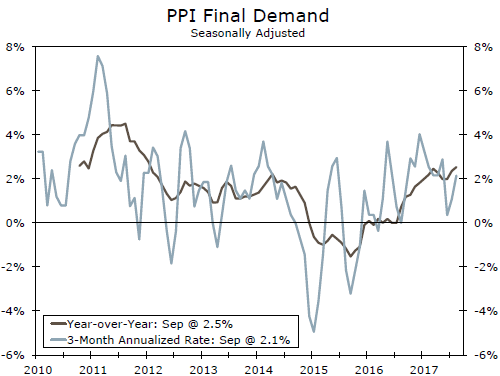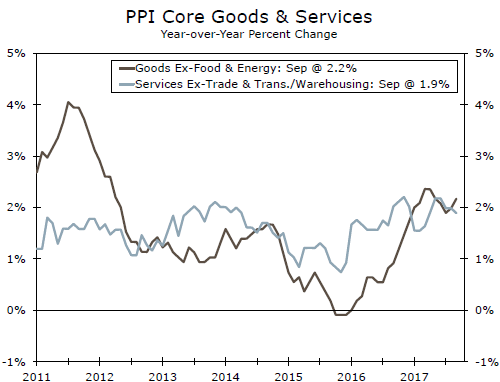 PPI Consistent with Moderate Inflation
Construction costs were little changed in September (up 0.1 percent), but will likely see the upward trend of recent months continue as rebuilding efforts in the Gulf region get underway.
While not the Fed's primary measure, the PPI has firmed over the past year and is in the realm of the FOMC's 2 percent goal. PPI is up 2.6 percent year-over-year while our preferred measure of the core (ex-food, energy, and trade services) is up 2.1 percent.