Attention remains on US inflation data today
Only a much lower core CPI reading could tempt the Fed to reconsider hiking in two weeks
UK100 rebounds but caution may remain unless key level is overcome
European stock markets are tentatively higher on Wednesday, with the FTSE 100 leading the way up more than 1%,  as traders adopt a cautious position ahead of the US inflation report.
Any hopes of another pause from the Fed this month have dwindled in recent weeks as the data simply hasn't delivered what it needed to in order to convince the FOMC to do so for a second consecutive meeting. A second pause would be taken as a sign that the tightening cycle is over so it's not a decision that would be taken lightly.
The jobs report on Friday was nowhere near good enough to convince the Fed that it has achieved its objectives. There will no doubt have been relief that the NFP number didn't replicate that of the ADP but together with the wage component, it still pointed to a labor market that is very tight.
It would take something remarkable from the inflation report today to convince policymakers that they can afford to pause again. The headline CPI falling to 3.1% doesn't fall into that category when the core number is expected to remain high at 5%. It would take a real shock on the core side to really stimulate the debate in two weeks.
A failure to break back above 7,400 could be viewed as confirmation of the initial break
It hasn't been a great few months for the UK index, having fallen almost 9% from its April peak before rebounding a little this week. It did run into some support around 7,200 where it has reacted to on numerous occasions in the past, including in March, the last time it fell back to these levels.
UK100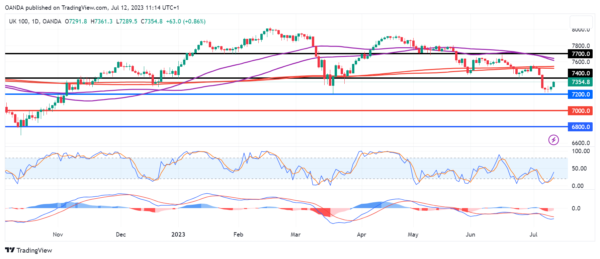 Source – OANDA on Trading View
Having recovered a little in the last couple of days, it now faces a test around 7,400, another level it has previously been responsive to, most recently a couple of weeks ago when it saw strong support here.
A rebound off that level this time could be viewed as confirmation of the break below there on Thursday and therefore a bearish signal. That would draw attention back to 7,200 which may, as a result, look a little more vulnerable.