The publication of news on the UK PMI index yesterday signaled an acceleration of the downturn in business activity. The index value was 42.5 (values below 50 indicate a slowdown in the economy). This is the thirteenth consecutive reading of the index below 50, with readings below 42.5 last recorded during the height of the pandemic in the spring of 2020.
The first reaction to the news was a sharp drop in the GBP/USD rate, but by the end of the trading session, the rate recovered, which can be considered evidence of strong demand.
More bullish arguments are given by the analysis of the volumes of trading in futures for the British pound on the CME exchange:
→ the largest trading volumes for the year were recorded on June 13 (more than 240k contracts were traded at an average of about 100k per day). If you draw a horizontal level from the high of this candle at 1.262, you will see how it acts as support;
→ yesterday, extremely high volumes (more than 155k contracts) were recorded again on a candle with a long lower shadow. That is, high volumes, reflecting the activity of large players, may indicate the relevance of demand for the pound at a price of 1.262.
Moreover, the pound is near the lower border of the rising channel.
Bearish arguments:
→ Since mid-July, the GBP/USD rate has shown a bearish trend. And if there is a breakdown of the level of 1.262, where large volumes were noticed, this will be an important confirmation of the superiority of sellers.
→ Fundamentally, the UK economy looks weaker than the rest, including due to higher inflation rates, which makes the prospects for the pound vague.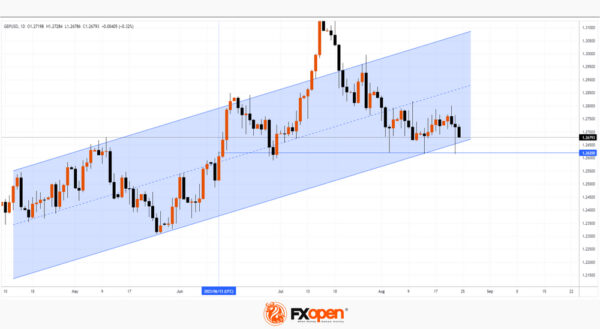 This article represents the opinion of the Companies operating under the FXOpen brand only. It is not to be construed as an offer, solicitation, or recommendation with respect to products and services provided by the Companies operating under the FXOpen brand, nor is it to be considered financial advice.