Yesterday it became known that the Bank of Canada (BOC) decided to keep the rate at 5% — the highest level in 22 years.
Here are the key takeaways from CEO Tiff Macklem's press conference:
→ excess demand is declining, but the BOC is remaining concerned about persistence of high inflation;
→ the labor market is gradually calming down, but wage growth remains high;
→ second-quarter GDP contraction attributed to a noticeable slowdown in consumption growth, a slowdown in housing market growth and the impact of wildfires across the country.
Although the decision to leave the rate unchanged is a move that economists expected in a Bloomberg survey, there has been some spike in volatility in the foreign exchange market. The first emotional reaction of market participants led to the depreciation of the CAD against other currencies. But at the end of the day, the Canadian dollar strengthened — apparently, market participants still see positive in the prospects of the Canadian economy, taking into account the statements of the head of the Bank of Canada.
At the same time, an interesting situation is emerging on the USD/CAD chart – the rate has declined from the important level of 1.365, from which reversals were repeatedly formed earlier this year (as the arrows show). What can we say about the formation of another bearish reversal?
→ Long upper shadows on candles on September 5-6;
→ the two tops inside yesterday only slightly exceeded the top on September 5, which may indicate demand exhaustion and bear traps.
However, USD/CAD is in an uptrend (shown by the blue channel). And a scenario is not ruled out, in which the resistance of 1.365 will only cause a rollback within the channel. In this case, testing of its lower bound may occur.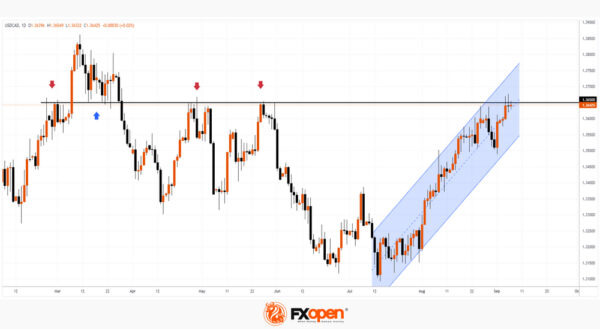 This article represents the opinion of the Companies operating under the FXOpen brand only. It is not to be construed as an offer, solicitation, or recommendation with respect to products and services provided by the Companies operating under the FXOpen brand, nor is it to be considered financial advice.