Here are the latest developments in global markets:
FOREX: The US currency remained in the green versus a basket of currencies, while it is of note it managed to rebound after touching its lowest since December 2014 earlier on Wednesday. The dollar index was last up by 0.35% at 90.70.
STOCKS: Most European bourses were in the red around midday on the back of updates on earnings that, for the most part, disappointed investors. The pan-European Stoxx 600 was marginally down, with the blue-chip Euro Stoxx 50 trading lower by 0.1%. UK's FTSE 100, the German DAX and the French CAC 40 all traded lower by 0.2%, 0.3% and 0.1% respectively. Multinational events and publishing company Informa (down 9.05%) was the worst performing FTSE stock after making an offer to acquire mid-cap events organizer UBM, a FTSE 250 constituent that saw its stock price jump, last being up by 10.7%. Luxury fashion house Burberry (down 7.4%) and publishing & education company Pearson (down 5.3%) were other notable losers as their trading updates came in short of what the investment community expected. Dow, S&P 500 and Nasdaq 100 futures were all up by 0.6%, 0.4% and 0.4% respectively. Quarterly earnings reports by Bank of America and Goldman Sachs will be gathering attention during the US session; both companies will release their results before Wall Street's opening bell.
COMMODITIES: Ahead of a report on US crude stocks, WTI and Brent crude were down by 0.4% and 0.6%, trading at $63.46 and $68.76 per barrel. Gold traded lower by 0.1%, at $1,336.54 an ounce. The rise in the dollar probably took something away from the dollar-denominated precious metal's appeal.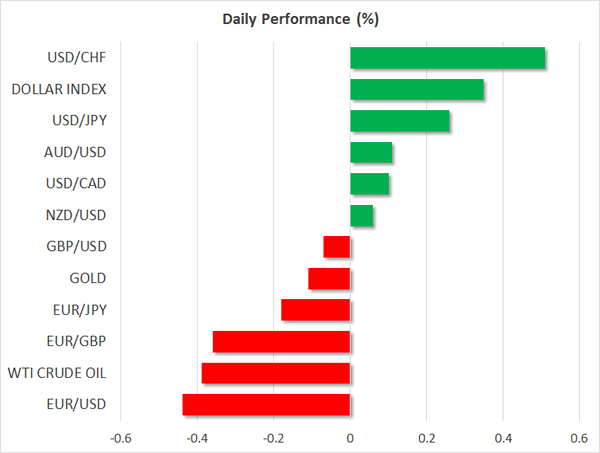 Day ahead: Bank of Canada in spotlight; eurozone inflation a non-mover
The eurozone's final inflation figures for the month of December went public at 1000 GMT. Year-on-year and month-on-month, headline inflation came in as expected at 1.4% and 0.4% respectively, with energy prices rising the most on an annual basis. Core inflation, which excludes volatile energy and unprocessed food items and which is often cited by the ECB in its policymaking, increased by 1.1% on a yearly basis, the same pace as in the two months that preceded. The measure of core inflation that excludes alcohol and tobacco, in addition to taking out of the calculations energy and unprocessed food, rose by 0.9% y/y, again at the same rate as in November and October; some analysts view this reading as a better gauge of price pressures. The ECB's target for annual inflation is below but close to 2%.
Unsurprisingly, given that the release pertained to the final inflation numbers, the market's reaction was subdued. Indicatively, euro/dollar moved within less than a 15-pips range during the first minutes of the data release. The pair was last 0.4% down at 1.2206. Despite the decline, the pair still held most of its recently-recorded gains. It should be said that earlier on Wednesday the pair touched its highest since December 2014 of 1.2323.
Regarding the day ahead, the Bank of Canada's rate decision due at 1500 GMT is eagerly expected. The bank's Monetary Policy Report will accompany the interest rate decision, while later – at 1615 GMT – BoC Governor Stephen Poloz and Senior Deputy Governor Carolyn Wilkins will be attending a press conference. Markets widely expect the central bank to hike rates by 25 bps, pushing up its benchmark rate to a post crisis high of 1.25%. Given that markets have for the most part priced in a rate hike, the loonie stands much more to lose in case the BoC backs down from delivering one, than it stands to gain from an interest rate increase. Dollar/loonie was last not much changed on the day at 1.2447.
Out of the US, December industrial production numbers scheduled for release at 1415 GMT will be gathering attention. Month-on-month, industrial output is forecast to exhibit positive growth for the fourth straight month, expanding by 0.4%, twice as fast as in November. Manufacturing output figures, which are a subset of industrial output ones, will also be watched by market participants. The reading on December's capacity utilization will also be made public at the same time, while the National Association of Home Builders is scheduled to release its Housing Market Index at 1500 GMT. Lastly, the Federal Reserve's Beige Book, which attempts to give a picture of economic trends and challenges the US economy faces, is due at 1900 GMT.
Oil traders will be paying attention to the API weekly report due at 2130 GMT that includes information on US crude stocks.
In terms of Fed policymakers making appearances today, Chicago Fed President Charles Evans and Dallas Fed President Robert Kaplan will be participating in a discussion on current economic conditions and monetary policy at 2000 GMT; neither of them is an FOMC voting member in 2018. Cleveland Fed President Loretta Mester, which holds voting rights within the FOMC this year, will be giving a lecture on monetary policy communication at 2130 GMT.
Any developments on the German political landscape, after the latest setback in efforts to revive the grand coalition between Chancellor Merkel's conservative bloc and the Social Democrats, have the potential to lead to market reaction.