Key Points:
Underlying pessimism beginning to fade to a degree.
ABC wave poised to extend gains during leg C.
Closing above the 100 day moving average is generating some bullish sentiment.
The Cable's defiance of last session's swing back to the dollar stands as a testament to the shift in underlying sentiment towards the embattled pair. Indeed, the market's reaction to Parliament's rather unified response to the Article 50 vote could be a bellwether of easing uncertainty and the return of some much needed optimism regarding the GBP's future. As a result, the 1.30 handle may not be as far out of reach as it has been over the past few months.
From a technical perspective, there is also some fairly tangible evidence of at least an end to the relentless selling pressure that has been besetting the Cable. Notably, the pair's recent surge in popularity has seen it finally cross back above the 100 day EMA in accordance with its bullish Parabolic SAR bias. Combined with the bullish MACD readings and the configuration of the two shorter period moving averages, upside potential is certainly at its highest point in some time.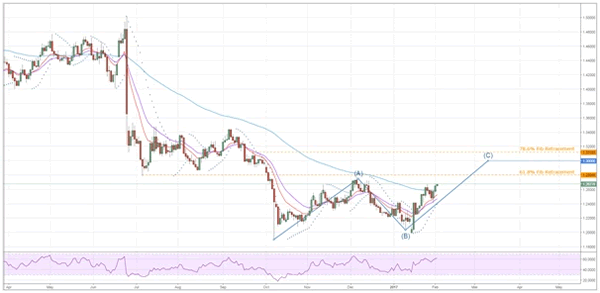 Currently, the major impediment to any real and sustainable gains is the 61.8% Fibonacci level. This retracement coincides with the old downside constraint of the sideways channel that dominated the charts in the immediate aftermath of June's referendum. Additionally, stochastics are quite heavily overbought which will be providing some resistance as the pair attempts to push higher.
Fortunately, the presence of a corrective ABC wave alongside the other technical signals should help to generate the requisite momentum to see this robust zone of resistance broken. Moreover, whilst the stochastics are overbought, the RSI reading still has some room to maneuverer which makes the Cable's overbought status somewhat ambiguous.
Ultimately, if we do see the breakout occur, we expect the rally to end somewhere between the 61.8% and 78.6% Fibonacci retracement levels. Presently, the 1.30 handle is a likely candidate for where we can expect to see this C leg complete given the slight psychological barrier it poses. However, fundamentals around this point are likely to have a large influence on just where the ABC wave ends and they should, therefore, be watched closely as this point draws nearer.