The range breaks in USD/JPY and 10-year Treasuries were tenuous on Wednesday until late in the day when Trump jawboned the dollar lower. The euro was the top performer on the day while USD lagged. The Australian jobs report is next. Range breaks can break your heart. Well defined ranges in USD/JPY and 10-year yields gave way on Tuesday in a strong move but the lack of fear in stocks and the lack of a compelling new catalyst was a concern. On Wednesday, the lack of follow and a quiet market through added to the worries about a false break. Both gold and silver longs in our Premium service have deepened in the green at +77 and 110 pts respectively.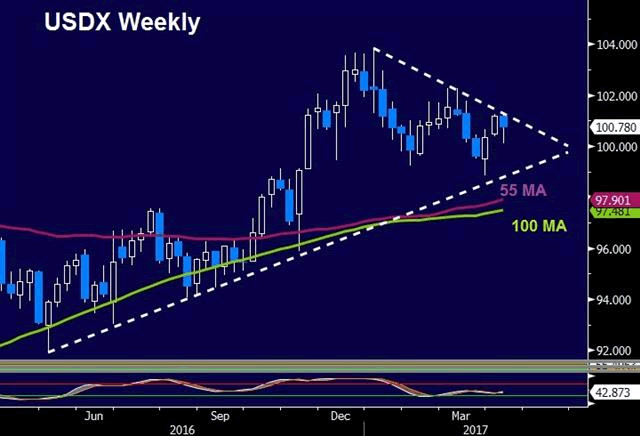 That changed late in the day as the dollar and yields sank after Donald Trump jawboned the currency lower. The initial headline reported him saying the dollar was getting too strong but buried in the WSJ interview was a comment that may have more long-lasting implications than some minor jawboning. He said that he likes low interest rate policy.
Trump will soon fill one of the Fed governor roles. He has two more vacancies to fill after that and could also replace Yellen. But in perhaps another sign that he's a dove, he reversed campaign comments that she was 'toast' and said he was thinking about extending her but undecided.
His comments were part of handful of policy reversals. He also confirmed suspicions that he won't name China a currency manipulator, that he won't close the Import-Export Bank, that NATO isn't obsolete along with his seeming reversal on taking action in Syria.
The market latched onto the dollar comments and EUR/USD climbed to 1.0670 from 1.0600. Technically, the bigger story was USD/JPY as it broke through 110.00 on Tuesday then spent most of Wednesday consolidating just below before Trump's comments sent it to 108.90. There is huge downside potential in that trade if it can break the 200-dma at 1.0875.
Looking ahead, the Australian dollar will shift into focus in Asia-Pac trading with the jobs report due at 0130 GMT. The consensus is 20.0K new jobs. AUD/USD touched the lowest since mid-January in early trading but reversed in an outside day to 0.7530. A strong jobs number would help confirm the turn.