Brent Oil: Trading in a downward channel
Gold: Desending traingle pattern complete, price oversold
Brent Oil: Trading in a downward channel
The intraday chart (8 hour) for Brent oil shows that oil is trading in a downward channel. This can be seen by the two orange lines which outline the downward channel. Moreover, the price is trading below the 100 and 200-day SMA, this confirms that the downtrend is strongly in play. Having said this, the price is trading close enough to the lower line of the downward channel, this increases the probability of an upward move. The last time the price had dropped to 70.21 (the current support line shown in green colour) dates back to the 11th May and since then it has now once again come close.
When looking at the Relative Strength Index it is apparent that the price is currently in the oversold territory as the price is hovering near enough the 30 mark. This shows that there may be a bullish movement on its way.
Moreover, when looking at the balance of Power it is seeming that, yes there is a bearish trend but not to an extreme. In fact, when looking closely at the Balance of Power indicator it is evident that the bulls may take control as the price seems to be gradually ascending.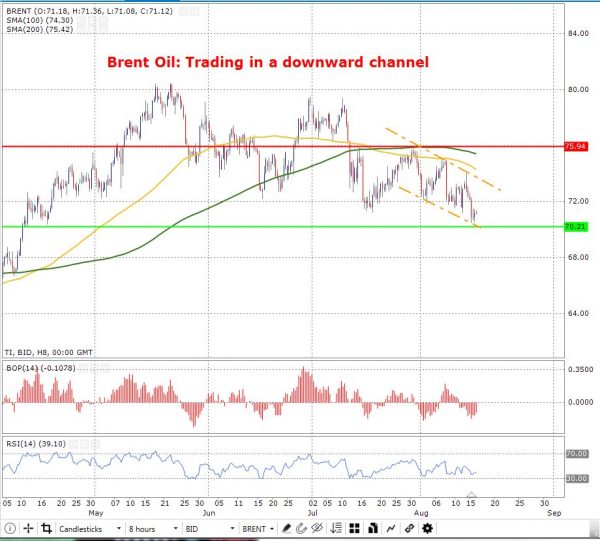 Gold: Desending traingle pattern complete, price oversold
The below chart for gold displays that the price has completed the descending triangle pattern. The decedning triangle started on the 20th July and it broke out of this pattern to the downside on the 09th of August. The descending triangle pattern is clearly visible outlined in pink, this shows that a downward momentum is strong. Moreover, the price is not entirely but still in the motion of approaching the support area which is the green line and is priced at $1,146.39.
The Relative Strength Index informs that the price has been way over sold as it is apparent that it is way below the 30 mark. This shows that a bullish movement maybe among the markets for gold.