Welcome back to your screens for another week. I hope your weekend was refreshing and you're back ready to crush another trading week!
What better way to spend your Monday Asian session than analysing EUR/USD starting with a clear as day 4 hourly support level on the 4 hourly.
EUR/USD 4 Hourly: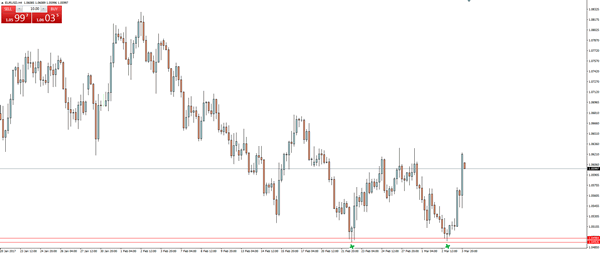 So as you can see, we have a pretty obvious support level at the bottom of the chart thanks to that juicy double bottom.
Both touches of the level come within just a 6 pip zone and more importantly, both touches of the level were met with immediate buying to push out of the level HARD.
EUR/USD 15 Minute:
Zooming into the intraday chart with the period separators on to represent days of the week, you can see that last Thursday push into the higher time frame level was then followed by the multiple chances to get long on any short term pullback into previous resistance that we'd look to act as support.
As the market opens for the week, the highest one shows that the bulls are still in control and we still have a long entry available to start the week if you don't think the ship has already sailed.
Finally, I just wanted to bring up this daily EUR/USD support level that price held before Draghi helped pull the pair back down again.