Following the September 2021 cryptocurrency ban by the Chinese government, it was gathered that some economists urged the government to reconsider crypto trading and mining favorably. One such person is Huang Yiping, an economics professor and former adviser to the Chinese Central Bank. We are now beginning to see a more lenient approach toward crypto investors in Asia, leading to what many are tagging as the next bull run. The question remains, is the Chinese crypto narrative bullish for mainstream cryptos?
BTCUSD -Weekly Timeframe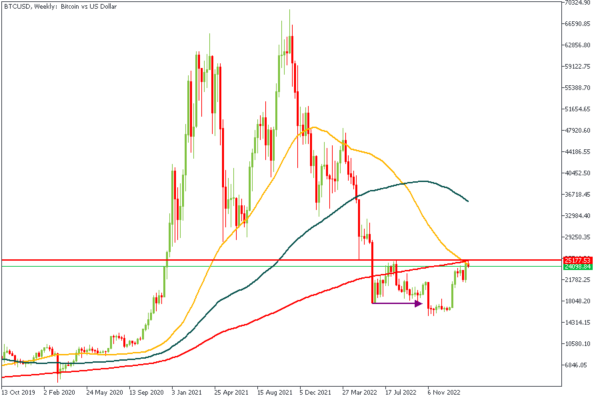 Bitcoin is under pressure from the 50 and 200 period moving averages on the weekly timeframe. There is also considerable impact from the pivot line at $25k. These factors point credibly to a bearish intent. However, we will also consider the outlook on the Daily timeframe.
BTCUSD – Daily Timeframe
Based on what we've seen from the weekly timeframe and the current reaction, we see clearly from the resistance line in the daily timeframe. The primary target would be the $22k area.
Analysts' Expectations:
Direction: Bearish
Target: $22 000
Invalidation: $25 000
ETHUSD – Weekly Timeframe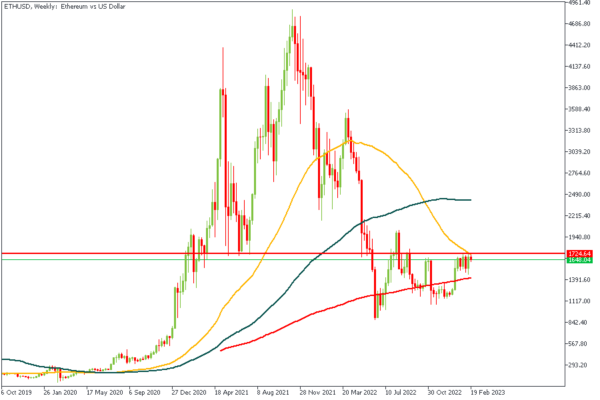 Here is the weekly timeframe chart for ETHUSD. So far, $1724 has acted as a natural resistance zone, pushing the price down quickly. There is also the 50-period moving average glaring down viciously at a price. To conclude this sentiment as a mature one, let's see how things are looking on the daily timeframe.
ETHUSD – Daily Timeframe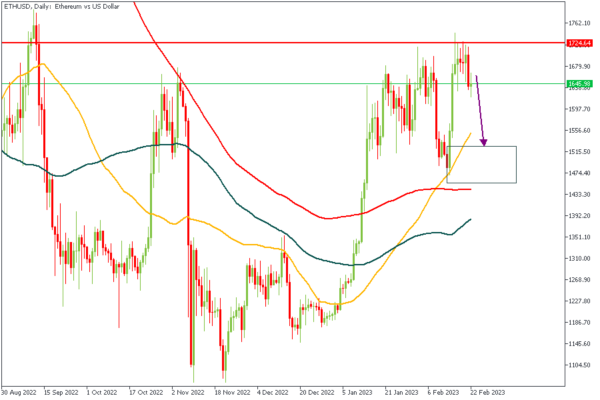 The Daily price action here confirms our sentiment from the weekly timeframe. The $1724 resistance is a key zone even though we have the 50-day moving average closing in on the price.
Analysts' Expectations:
Direction: Bearish
Target: $1550
Invalidation: $1725
CONCLUSION
The trading of CFDs comes at a risk. Thus, to succeed, you have to manage risks properly. To avoid costly mistakes while you look to trade these opportunities, be sure to do your due diligence and manage your risk appropriately.