There is a high probability that a long-term corrective trend has ended for USOIL. It took the form of a primary triple zigzag consisting of sub-waves.
In the last section of the chart, we can see a market reversal and the beginning of a new bullish trend. Perhaps there is a construction of the primary impulse wave ①-②-③-④-⑤.
The end of the third sub-wave ③ is expected to reach the price level of 87.07, at which the intermediate sub-wave (5), which is currently being built, will be at 61.8% of impulse (3).
An approximate scheme of possible future movement is shown on the chart.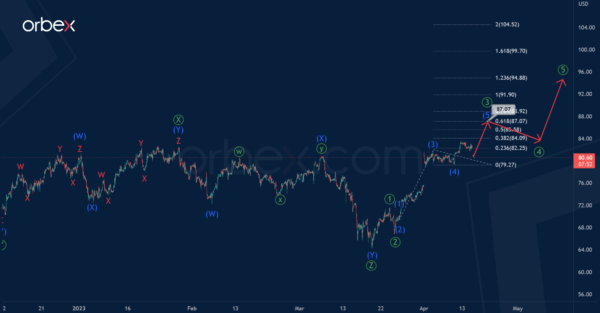 Alternatively, a continuation of the bearish trend is possible. Only the second intervening wave could be completed, it has the form of a double three (W)-(X)-(Y).
The scenario will be confirmed if the bears take the initiative and lead the market down, building a final wave.
The first goal, as far as the bears can reach, is a minimum of 64.20. At that level the actionary intermediate wave (Y) was completed.