Here is a summary of US data released today.
Philly Fed Manufacturing index dropped sharply to 19.9 in June, down from 34.4 and missed expectation of 25. 6-month expectation dropped to 34.8, down from 38.7. From the release, it's said that "Responses to the June Manufacturing Business Outlook Survey indicate continued expansion for the region's manufacturing sector, although indicators for general activity and new orders fell notably from last month. The firms reported continued increases in employment, and the indexes for prices paid and received continued to reflect widespread price pressures. Looking ahead six months, the firms remain optimistic overall, but the survey's future indicators continued to moderate."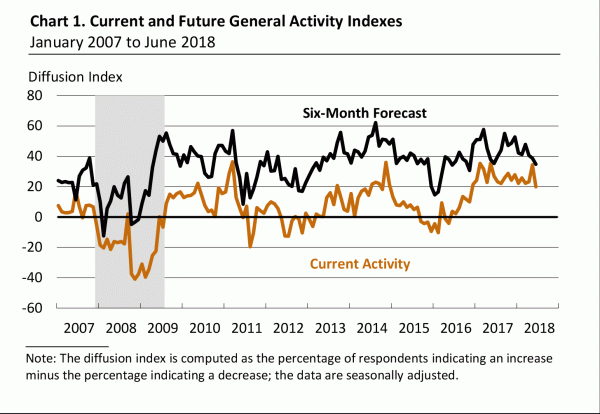 Initial jobless claims dropped -3k to 218k in the week ended June 16, below expectation of 220k. Four-week moving average of initial claims dropped -4k to 221k. Continuing claims rose 22k to 1.723m in the week ended June 9. Four-week moving average of continuing claims dropped -4.75k to 1.7225m. This is the lowest level since December 8, 1973.
House price index rose 0.1% mom in April versus expectation of 0.3% mom. Leading index rose 0.2% in May versus expectation of 0.4%.