New Zealand BusinessNZ Performance of Manufacturing Index dropped to 52.8 in June, down from 54.4. BusinessNZ's executive director for manufacturing Catherine Beard said that the slow-down in expansion was mainly due to ongoing drops in a key sub-index.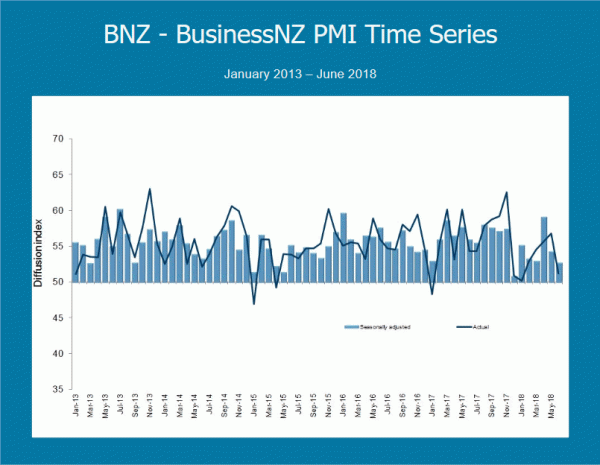 "Production (51.8) experienced another decrease in expansion levels for June, which meant it was down to its lowest point since January 2017. On a positive note, the other key sub-index of New Orders (57.1) remained in healthy territory, which at least should feed through to production levels in the coming months.
In addition, the proportion of positive comments in June (51.7%) decreased from May (55.1%), and very similar to February (51.4%). Those who provided negative comments typically noted a general downturn and uncertainty in the market".
BNZ Senior Economist, Craig Ebert said that "broadly speaking, the PMI has settled down into a trend-like pace this year, averaging 53.8 (excluding April's spike). This is after outperformance through most of 2017, when it averaged 56.2".