While risk appetite is strong in the first half of US session, Yen is actually not the weakest. Swiss is the biggest loser today, followed by Canadian Dollar. Australian Dollar and New Zealand Dollar remain the strongest ones. Yen and Dollar are just mixed only. We'd like to point out again that, despite recoveries in EUR/USD, GBP/USD, EUR/JPY and GBP/JPY, these four pairs are kept below near term resistance. The levels are 1.1430 in EUR/USD, 1.2826 in GBP/USD, 126.98 in EUR/JPY and 142.46 in GBP/JPY. There is no indicate of reversal yet and they stay bearish.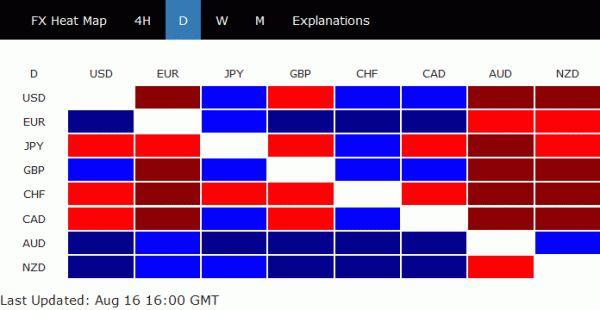 US equities are having a strong rally today. DOW's rally is heavily driven by the stellar earnings report of Walmart, which shares also surged more than 9%. The retail giant reported Q2 same-store sales growth that reached a decade high. At the time of writing, DOW is gaining 1.57%. The strong rally negated yesterday's sharp fall. And, with strong support seen at 55 day EMA, near term bullishness is retained. It's now heading back to 25692.72. Nonetheless, we're still expect strong resistance between 25800.35/26616.71 to limit upside. Meanwhile, S&P 500 is up 1.05%, NASDAQ is up 0.91%.
.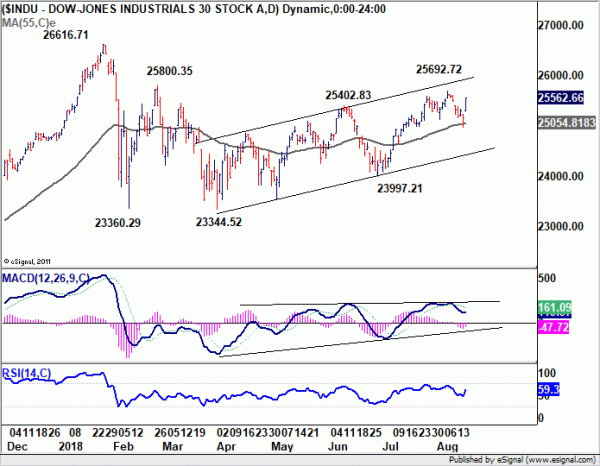 European indices also posted solid gains today. FTSE closed up 0.78% at 7556.38. DAX closed up 0.61% at 12237.17. CAC up 0.83% at 5349.02. However, all are kept below yesterday's high at 7632, 12428.56 and 5417.18 respectively. Today's recoveries are merely seen as a corrective move only.