UK PMI services dropped to 53.9 in September, down from 54.3 and matched expectations. The key points are "growth of business activity eases only slightly since August", "job creation edges up to seven-month high", "higher fuel prices lead to sharp rise in input costs".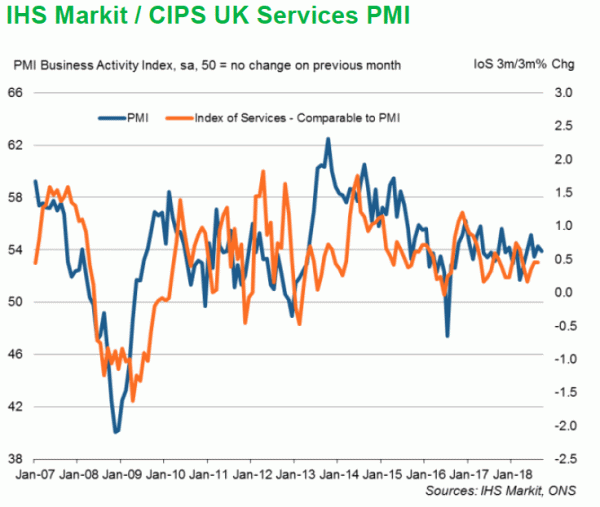 Chris Williamson, Chief Business Economist at IHS Markit, which compiles the survey:
"The service sector continued to report solid steady business growth in September which, alongside news of sustained expansions in both manufacturing and construction, suggests the UK economy expanded by just under 0.4% in the third quarter.
"The data therefore add to signs that the economy has enjoyed robust growth since the rocky start to the year, when extreme weather disrupted business.
"Brexit worries continue to dominate the outlook, however, keeping business optimism firmly anchored at levels which would normally be indicative of an imminent slowdown. Clarity on Brexit arrangements is therefore needed as soon as possible to help sustain growth.
"In a month during which oil prices spiked higher, it was no surprise to see cost pressures intensify, meaning consumer price inflation will have likely continued to run at a pace above the Bank of England's 2% target in September, and will likely remain closer to 3% than 2% in coming months.
"The steady economic expansion and intensification of cost pressures will add to views that the next move in interest rates will be another hike. However, with Brexit uncertainty intensifying in recent weeks, any rise seems unlikely prior to the scheduled March 29th exit from the EU."