The strong rally in US treasury yields, followed record ISM non-manufacturing composite data, is the key development in US session today. At the time of writing. 30-year yield is up 0.80 % at 3.287, 10-yearyield up 0.075 at 3.131, 5-year yield up 0.065 at 3.009. Again, yield is stronger at the long end.
10 year yield (TNX) break of 3.115 resistance indicates resumption of medium term up trend from 1.336 (2016 low). More importantly, we're now seeing the chance of firm break of multi-decade trend line resistance, which will be a very bullish signal.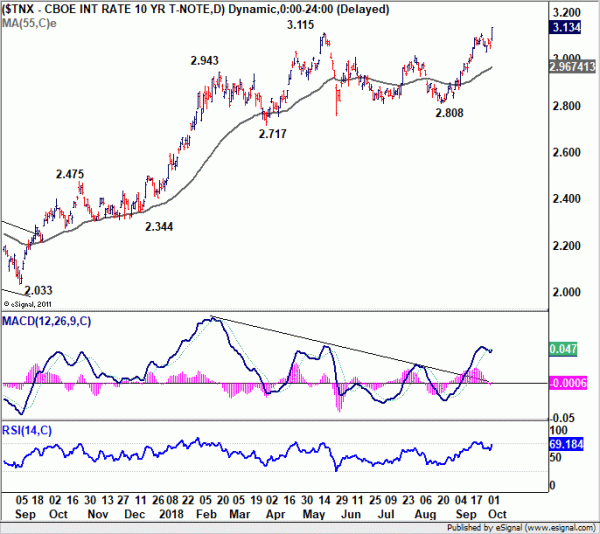 30 year yield (TYX) also breaks key resistance level at 3.255/60. Medium term rise from 2.102 (2016 low) is resuming and could possibly target next key resistance at 3.976. At the same time, TYX could also be heading for a break of multi decade trend line resistance too.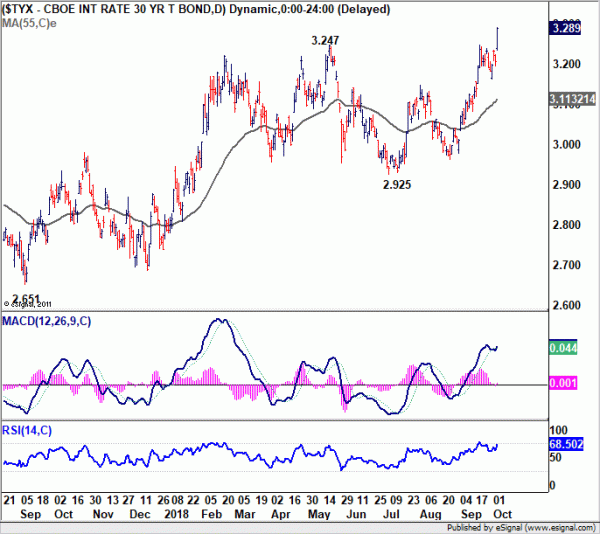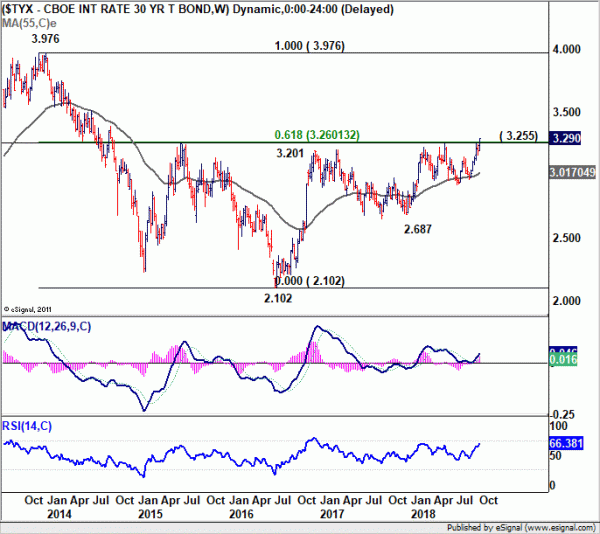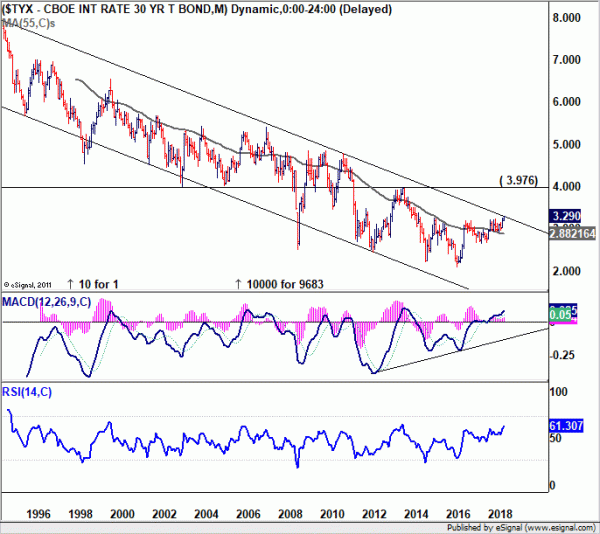 It would take some more time to confirm the underlying bullish momentum in both TNX and TYX. That's nevertheless very significant development if realized as mentioned above.
Of course, DOW's record run is also worth a mention as it hit new record high at 26951.81. DOW is currently up 0.58% at 26927. S&P is up 0.38% and is not far from another record. NASDAQ lags behind but it's still up 0.49%.
In the currency markets, Sterling remains the strongest one for today as somehow no news is good news. At least, there is no drama from PM May's speech at the Conservatives conference. But the pound could easily be overtaken by Dollar should it's consolidation finish. Canadian Dollar is the third strongest one for now. Australian and New Zealand Dollar are the weakest while Yen is the third. Monetary policy divergence plays a key role in the movements.