UK PMI services dropped to 52.2 in October, down from 53.9 and missed expectation of 53.4.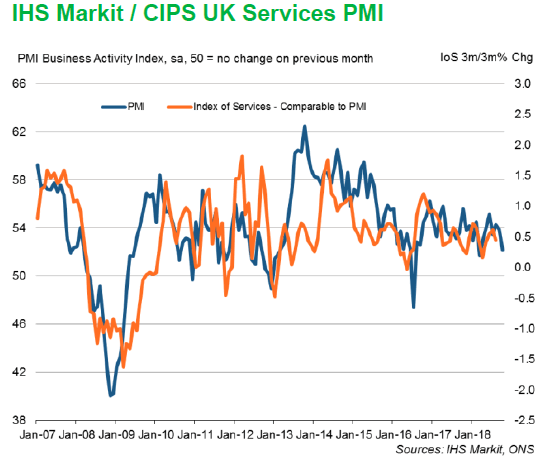 Chris Williamson, Chief Business Economist at IHS Markit, which compiles the survey:
"The disappointing service sector numbers bring mounting evidence that Brexit worries are taking an increasing toll on the economy. Combined with the manufacturing and construction surveys, the October services PMI points to the economy growing at a quarterly rate of just 0.2%, setting the scene for GDP growth to weaken sharply in the fourth quarter.
"However, while it is not surprising to see that Brexit uncertainties are increasingly undermining business activity at this stage of the negotiations, the survey responses also suggest that the economy is facing other headwinds, including a broader global slowdown, trade wars, heightened geopolitical uncertainty and tightening financial market conditions.
"It therefore remains unclear as to the extent to which Brexit worries are exacerbating or obfuscating a more broad-based slowing of the economy, which would have important implications for policymaking."