US PMI manufacturing dropped to 53.7 in February, down from 54.9 and missed expectation of 55.0. That's the lowest in 17 months. PMI services, on the other hand, rose to 56.2, up from 54.2 and beat expectation of 54.3. That's also the highest in 8-month. PMI composite rose to 55.8, up from 54.4, 8-month high.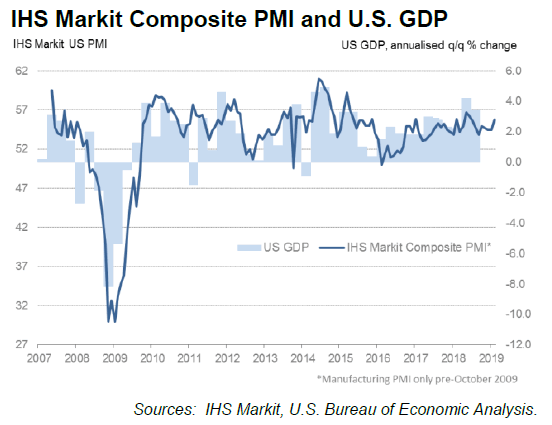 Commenting on the flash PMI data, Tim Moore, Associate Director at IHS Markit said:
"February data provides a positive signal for first quarter economic growth, with US businesses reporting the fastest output expansion since the middle of 2018. Service sector firms led the way, supported by solid improvements in business and consumer spending. Private sector payroll numbers increased to the greatest extent for five months, which adds to hopes that robust domestic demand will act as a growth tailwind over the near-term.
"Historical comparisons suggest the latest survey data are indicative of an underlying economic growth rate of around 2.5% annualized, although the PMI is designed to monitor private sector companies so the impact of the government shutdown may not be fully captured.
"The main worrying development was the loss of momentum reported by manufacturing companies in February. Businesses that experienced a soft patch for production cited a range of factors holding back growth, including adverse weather, worries about the global economic outlook and ongoing international supply chain uncertainty.
"Nonetheless, relatively strong domestic business conditions mean that US manufacturers remain on a much more positive trajectory than the recent downbeat production trends signalled by IHS Markit's Manufacturing PMI surveys across Europe and Asia."
Also from the US, leading indicator dropped -0.1% in January. Existing home sales dropped to 4.94m annualized rate in January.